Manhunt comes to end as shooting suspect arrested in Findlay
Robert Tramaine Hathorn was arrested more than 12 hours after he allegedly shot an Ohio State Highway Patrol trooper
Published: Oct. 7, 2021 at 3:02 AM EDT
|
Updated: Oct. 7, 2021 at 1:34 PM EDT
FINDLAY, Ohio (WTVG) - The suspect in the shooting of an Ohio State Highway Patrol trooper has been arrested following an hours-long search. According to OSHP, troopers received a tip for Robert Tramaine Hathorn's location, and they arrested him at about 1 p.m. Thursday.
Hathorn is facing a charge of aggravated robbery with a deadly weapon. He's currently incarcerated at the Hancock County Justice Center.
Hathorn was on the run for more than 12 hours after allegedly shooting the trooper. He was arrested behind a barn on County Road 223.
Authorities say Hathorn was pulled over for a speeding violation on I-75 near milepost 160 in Hancock County just after 11 p.m. Wednesday night. The trooper reportedly smelled marijuana in the car and asked Hathorn to step out of his vehicle, and that's when a struggle ensued between the suspect and the trooper, which resulted in the trooper being shot with his own service weapon. Hathorn then fled the scene.
The OSHP trooper was shot in his lower body during the struggle and transported to Blanchard Valley Hospital with non-life-threatening injuries. The trooper has been identified as Josef Brobst.
"At this point, it's unclear how the firearm was fired," Sgt. Ryan Purpura with the state patrol said. "We did recover the trooper's firearm. Once the suspect fled the scene, the trooper was able to retain his firearm. It was recovered by us and we have it in our possession."
As of early Friday afternoon, Purprua said Brobst remains in the hospital in stable condition.
Brobst called in the shooting himself around 11:15 p.m. Fire and rescue crews were dispatched to the scene for assistance.
The suspect's vehicle was recovered behind the Ohio Bureau of Motor Vehicles building on County Road 140 near Township Road 89, but he was still at large. He's described as a 42-year-old Black male, 5-feet, 10-inches tall, and weighing 225 pounds. A release from the City of Findlay said the suspect may be west of I-75 and could be wearing a blue or grey tracksuit.
Three Hancock County school districts and Owens Community College's Findlay campus were closed on Thursday out of an abundance of caution during the manhunt.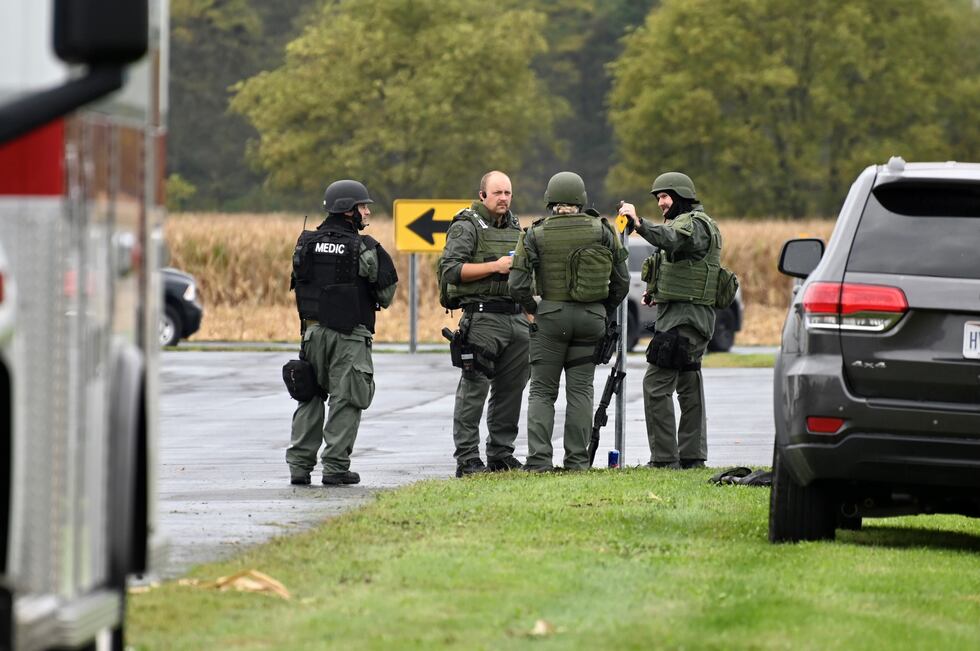 Brobst is a part of the patrol's 163rd Academy class, graduating in 2018. He is also a graduate of Defiance College.
"I want to go back to a bill that I have proposed for the legislature that would say if police find someone who is convicted felon of a violent crime, who is not supposed to have a gun if they find them with a gun, we ought to be able to book them," Ohio Gov. Mike DeWine said while on a visit to Bowling Green State University on Thursday. "Our police need that, our law enforcement need that."
According to the Michigan Department of Corrections, Hathorne was released from prison in April of this year after serving four years for assault/resist of a police officer and assaulting or obstructing a public officer in Muskegon County, and bribing or intimidation of a witness in Washtenaw County. He has also been convicted of various drug-related offenses, felonious assault, and failure to register as a sex offender.
See a spelling or grammar error in our story? Please include the title when you click here to report it.
Copyright 2021 WTVG. All rights reserved.