Oshae Jones named headline speaker at TLC Luncheon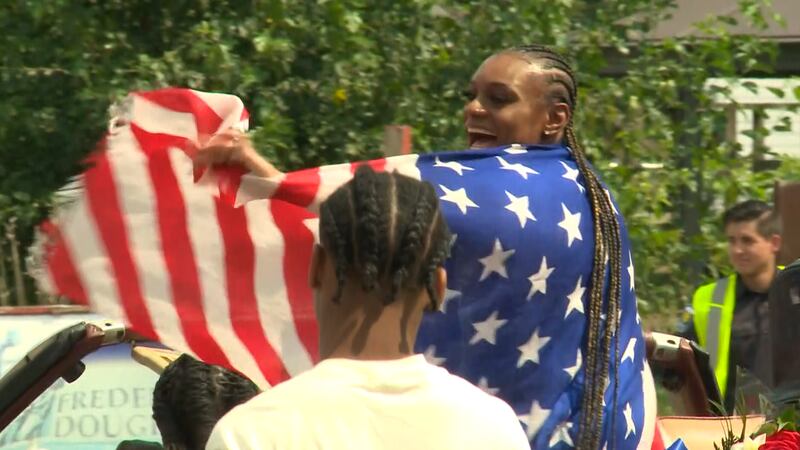 Published: May. 17, 2022 at 5:29 PM EDT
TOLEDO, Ohio (WTVG) - Olympic bronze-medalist and Toledo native Oshae Jones will be the headline speaker at the Boys and Girls Clubs of Toledo's 13th annual TLC luncheon.
Jones became the first female boxer from Ohio and the first female welterweight to represent USA Boxing in the Olympics when she competed in the 2020 Tokyo Games. She is also a three-time Elite National Champion.
The TLC Luncheon will take place at noon on Friday, May 20 at Inverness Club. Interview opportunities will be available between 11 a.m. and 11:30 a.m.
"I am so proud to be a Boys & Girls Clubs of Toledo board member and co-Chair of the annual TLC luncheon," Tiffany Cavanaugh said. "This luncheon not only offers us the opportunity to join together with friends to celebrate the most important work of the Boys & Girls Clubs of Toledo, but also offers us the opportunity to share with so many the mission of our organization and the life-changing impact the Clubs have on our area youth, their families, and their futures."
The goal of the TLC Luncheon is to educate, inform and reinforce the importance of the Boys and Girls Clubs' mission to the community.
"I am extremely honored and proud to be a part of BGCT," TLC co-chair Meg Appold said. "This incredible organization works diligently, every moment of every day, to create and provide safe spaces for children to grow and know that they have the power in them to become their greatest self."
Jones will be joined by special guest Toledo Youth of the Year, Ricardo Hernandez.
Hernandez will share his inspiring story of how his involvement in the East Toledo Club changed his life. Hernandez is a senior at Waite High School and plans to attend the University of Toledo in the fall.
The TLC Luncheon headline speakers has had notable headline speakers in the past including retired astronaut Capt. Winston Scott, Olympic gold-medalist Jackie Joyner-Kersee and sports columnist and commentator Christine Brennan -- and Jones is now part of that list.
"I am so excited to hear the inspiring message of my friend and our hometown Olympic hero Oshae Jones as our event speaker - she is sure to motivate us all with her story of hard work, determination, and success on the world's biggest stage," Cavanaugh said.
See a spelling or grammar error in our story? Please include the title when you click here to report it.
Copyright 2022 WTVG. All rights reserved.