Diocese of Toledo holds rare Wednesday mass to honor Pope Emeritus Benedict XVI
Bishop Daniel Thomas shares a personal connection to Pope Benedict after meeting and worshipping with him over the years.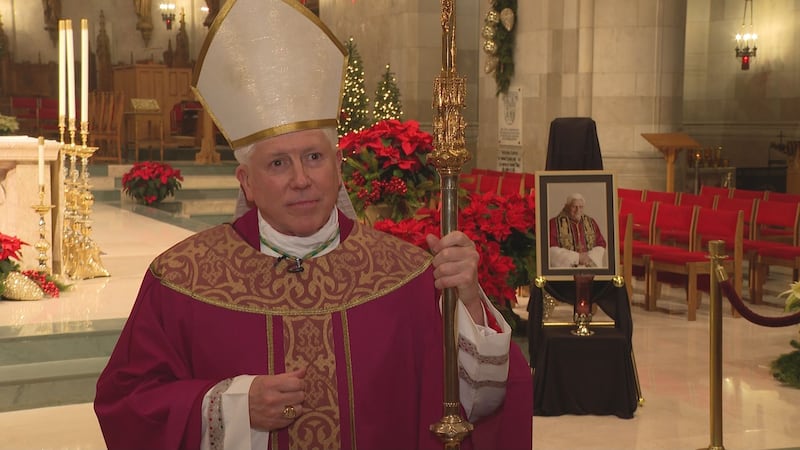 Published: Jan. 4, 2023 at 11:00 PM EST
TOLEDO, Ohio (WTVG) - The door of Our Lady, Queen of the Most Holy Rosary Cathedral is adorned with two symbols of contrasting emotions. A wreath celebrates the joy of the Christmas season and a black bunting signifies the sorrow after the passing of Pope Emeritus Benedict XVI.
"We celebrate the joy of Christmastide, the birth of the Savior, the incarnation of Jesus, the Son of God, and at the same moment, we're celebrating sorrowfully, the loss of a father, the loss of our Pope, but in every way, it's faith that fuels that joy and that sorrow and it's faith that brought so many here tonight," explained Bishop Daniel Thomas of the Diocese of Toledo.
Bishop Thomas presided over a rare Wednesday mass at Rosary Cathedral in honor of the passing of Pope Benedict. The bishop said media coverage often points out the Pope Emeritus was the first to step down in 600 years, which he calls a reflection of Pope Benedict's selflessness.
"You know, unfortunately, some folks think that the resignation defines his papacy. The reality is that what was behind the act of the resignation was his humility," added Bishop Thomas.
The Bishop brings a personal connection to Toledo as he spent time with Pope Benedict in meetings and worshipping with him over the years. Tonight's service, held on the eve of the funeral at the Vatican, brought many local Catholics to this central parish of the Diocese.
"In a particular way, it's a moving, really personal loss for me because I was able to meet and visit with him and be in meetings with him and be at mass with him several times. So, to know him on a personal level makes the loss even more personal, even though for every Catholic, the loss of a pope is the loss of a father," said Bishop Thomas.
See a spelling or grammar error in our story? Please include the title when you click here to report it.
Copyright 2023 WTVG. All rights reserved.