*First Alert Weather Day Today*
Damaging Winds & Isolated Tornadoes Possible South Between 4-7pm
Published: Jan. 18, 2023 at 12:05 PM EST
|
Updated: Jan. 19, 2023 at 1:55 PM EST
TOLEDO, Ohio (WTVG) - The 13abc First Alert Weather team has issued a First Alert Day for Thursday afternoon and evening (January 19th), when strong to severe storms are possible. Gusty winds will be the primary threat, though an isolated tornado cannot be ruled out.
Some sunshine is possible southeast of US 24 today. That warmth may push highs into the 50s in the southern part of the viewing area. That will warm highs to the lower 50s. Showers and scattered strong storms are expected to develop in a narrow late-afternoon/early-evening window (4pm-7pm). The Storm Prediction Center currently has a "marginal" risk (1 of 5) north of the state line down to about US 6. South of that line is in a "slight" risk (2 of 5). The extreme southern part of the area in parts of Allen and Wyandot Counties to central Ohio is in an "enhanced" risk (3 of 5) for severe storms.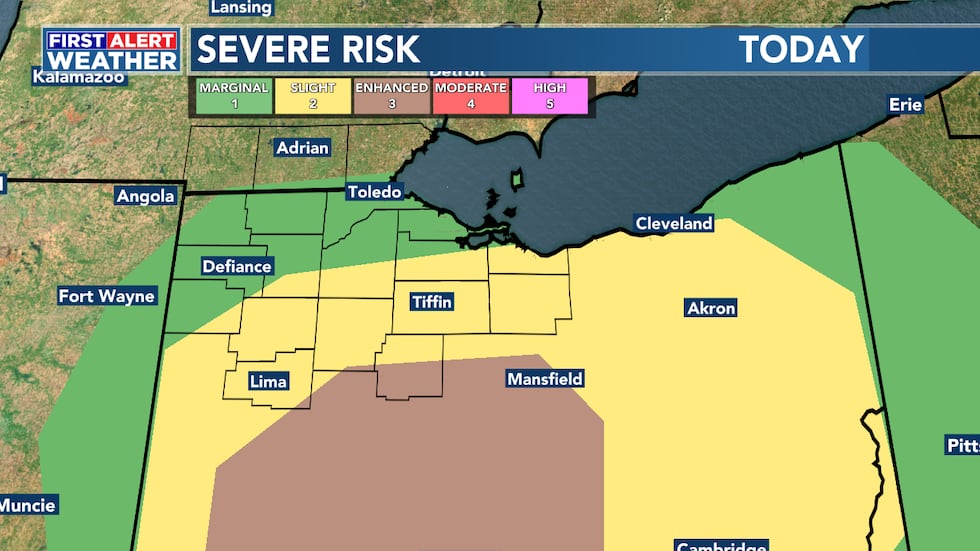 While energy is low compared to a typical summer storm, wind shear is high, and could mix high winds down to the ground with a few spin-ups possible. Stick with the 13abc First Alert Weather Team, for the latest developments. You can also download the 13abc First Alert Weather app: https://www.13abc.com/page/download-our-weather-app/
See a spelling or grammar error in our story? Please include the title when you click here to report it.
Copyright 2023 WTVG. All rights reserved.