In Trump probe, key witness returns, no indictment vote yet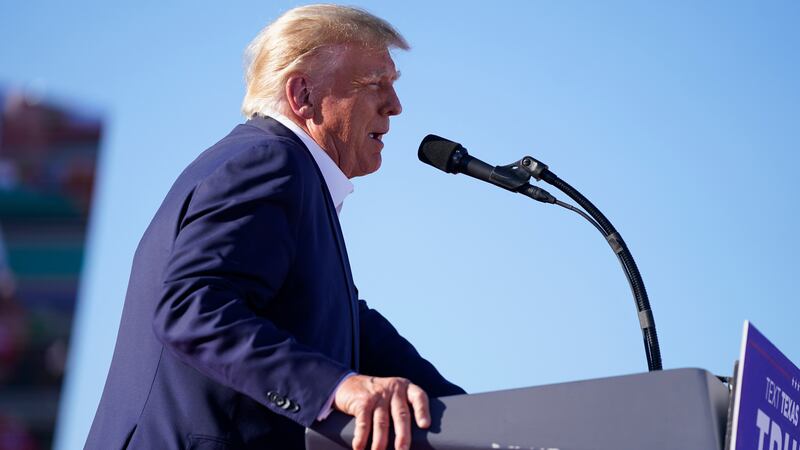 Published: Mar. 27, 2023 at 11:12 AM EDT
|
Updated: Mar. 27, 2023 at 7:43 PM EDT
NEW YORK (AP) — A pivotal figure in the hush money payment investigation of Donald Trump returned on Monday to the building where a grand jury has been meeting for months, a repeat appearance suggesting his testimony could be key as prosecutors push toward potential criminal charges.
There was still no word on when the panel might vote on a possible indictment of the former president.
David Pecker, a longtime Trump friend and the former chief executive of the parent company of The National Enquirer, was back as the grand jury heard testimony in the probe for the first time since last Monday, when a witness favorable to the ex-president appeared.
The grand jury is now back on the Trump matter, according to a person familiar with the case who spoke on condition of anonymity to discuss secretive proceedings. The ex-president is being investigated over payments during his 2016 campaign to two women who alleged affairs or sexual encounters with him.
Trump denies being involved with either of the women, porn actor Stormy Daniels and model Karen McDougal, and claims he's the victim of "extortion."
Among the witnesses the grand jury has already heard from is Michael Cohen, Trump's former lawyer and fixer who has said he orchestrated the payoffs. Cohen pleaded guilty in 2018 to federal charges arising from the payments and has become a potentially major witness for state prosecutors.
Pecker is seen as relevant to the investigation because his company, American Media Inc., secretly assisted Trump's campaign by paying $150,000 to McDougal in August 2016 for the rights to her story about an alleged affair with Trump. The company then suppressed McDougal's story until after the election, a dubious journalism practice known as "catch-and-kill."
Cohen made recordings of a conversation in which he and Trump spoke about the arrangement to pay McDougal through the tabloid publisher.
At one point in the recording, Cohen told Trump, "I need to open up a company for the transfer of all of that info regarding our friend, David," a reference to Pecker.
Cohen told Trump that he had already spoken with the Trump Organization's longtime finance chief, Allen Weisselberg, on "how to set the whole thing up."
Trump then said: "What do we got to pay for this? One-fifty?"
Cohen also signed an agreement to buy the nondisclosure part of McDougal's contract with AMI for $125,000 through a company he formed called Resolution Consultants LLC, but a few months later Pecker told Cohen that the deal was off and Cohen never paid the $125,000, according to court documents from Cohen's criminal case.
Separately, Cohen has admitted to paying $130,000 to Daniels to keep her from telling her story to the Enquirer or some other media.
Trump has said that he personally, not his company, reimbursed Cohen.
Federal prosecutors revealed in 2018 that they had agreed not to bring criminal charges against AMI. Pecker has since stepped down as CEO.
Trump raised anticipation that criminal charges were imminent with a March 18 post on his social media platform in which he said he expected to be arrested last Tuesday. He has since used the absence of an indictment to claim, furnishing no evidence, that the investigation is somehow faltering.
The Republican former president has also escalated his rhetoric, warning that "potential death & destruction" would accompany any indictment. He also posted a photo of himself holding a baseball bat next to a picture of District Attorney Alvin Bragg, a Democrat. On Thursday, Trump referred to Bragg, Manhattan's first Black D.A., as an "animal."
In a memo to staff Friday, Bragg thanked the nearly 1,600 people for persevering in the face of "additional press attention and security around our office" and said their safety remains the top priority.
"We will continue to apply the law evenly and fairly, which is what each of you does every single day," Bragg wrote.
Since then, former federal prosecutors in New York City have rallied to Bragg's defense, signing a letter that condemned the verbal attacks.
"As former prosecutors, we denounce efforts to intimidate the Manhattan District Attorney and we call upon all to support and protect prosecutorial independence and the rule of law," he said.
____
Associated Press writer Bobby Caina Calvan contributed to this report.
More on Donald Trump-related investigations: https://apnews.com/hub/donald-trump
Copyright 2023 The Associated Press. All rights reserved.