Indiana doctor faces discipline hearing over 10-year-old Ohio girl's abortion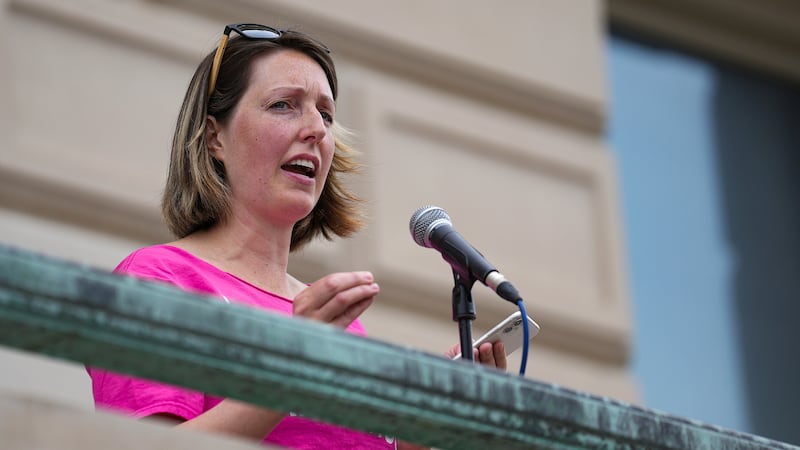 Published: May. 25, 2023 at 11:43 AM EDT
INDIANAPOLIS (AP) — An Indiana board is set to hear testimony Thursday that an Indianapolis doctor should face disciplinary action after she spoke publicly about providing an abortion to a 10-year-old rape victim from neighboring Ohio.
The Medical Licensing Board's hearing comes after Indiana's Republican attorney general accused Dr. Caitlin Bernard of violating state law by not reporting the girl's child abuse to Indiana authorities. She's also accused of breaking federal patient privacy laws by telling a newspaper reporter about the girl's treatment.
Bernard and her attorneys maintain that the doctor followed Indiana's child abuse reporting requirements as the girl's rape was already being investigated by Ohio authorities. Bernard's lawyers also say she didn't release any identifying information about the girl that would break privacy laws.
The Indianapolis Star cited the girl's case in a July 1 article that sparked a national political uproar in the weeks after the U.S. Supreme Court overturned Roe v. Wade last June, putting into effect an Ohio law that prohibited abortions after six weeks of pregnancy. Some news outlets and Republican politicians falsely suggested Bernard fabricated the story, until a 27-year-old man was charged with the rape in Columbus, Ohio.
Indiana Attorney General Todd Rokita's complaint asked the licensing board to impose "appropriate disciplinary action" but doesn't specify a requested penalty.
The Indiana board — made up of six doctors and one attorney appointed by Republican Gov. Eric Holcomb — could vote whether to impose any penalties Thursday after hearing what is expected to be several hours of testimony. State law gives the board wide latitude, allowing it to issue reprimand letters or suspend, revoke or place on probation a doctor's license.
Amid the wave of attention to the girl's case last summer, Rokita, who is stridently anti-abortion, told Fox News he would investigate Bernard's actions, calling her an "abortion activist acting as a doctor."
"This case is about two things – and two things only – patient privacy and this doctor's failure to protect this child," he said in a statement this week.
Ohio's law imposing a near-ban on abortion was in effect for about two months before being put on hold as a lawsuit against it plays out.
Bernard unsuccessfully tried to block Rokita's investigation last fall, although an Indianapolis judge wrote that Rokita made "clearly unlawful breaches" of state confidentiality laws with his public comments about investigating the doctor before filing the medical licensing complaint against her.
Bernard lawyer Kathleen DeLaney has called the complaint against the doctor "baseless attacks" done at taxpayer expense.
"Rokita's actions set a dangerous precedent imperiling the provision of lawful patient care," DeLaney has said.
Copyright 2023 WTVG. All rights reserved.