What options are there when a neighbor's tree threatens your property?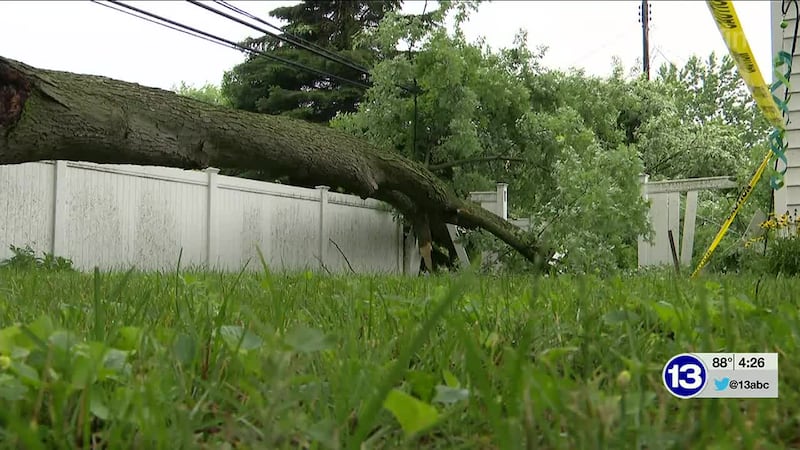 Published: Jul. 6, 2023 at 5:08 PM EDT
TOLEDO, Ohio (WTVG) - Falling trees are a hazard more people have experienced with several recent severe storms sweeping through the region. With falling trees comes the risk of property damage, injuries and even death.
But what are your options if the tree threatening your property is not on your property?
People living in the neighborhood off Laskey Road say trees fall all the time there. After a tree fell on her property, one resident of the neighborhood is wishing she had done something sooner.
"A pop, pop, pop, pop, pop like it was a machine gun. Look out our window and there's fire going down the line," said Linda Lieber, a resident in the area about a tree that recently fell in her backyard.
The tree fell with the trunk of it hitting a transformer, sending fire flying.
"Mouth open. Not knowing what to do,m what to think, what is happening. Is it the end of the world? It was the end of my world when I got up and looked out my back door," Lieber said.
The tree that fell and damaged Lieber's property was not even hers. Lieber said she cut down all the trees in her backyard for fear of something like that. Now she wishes her neighbors had done the same thing.
"I do. I really do. I wish this neighbor across the street would. I wish she could take this tree down," Lieber said.
City officials say homeowners can report unsafe trees to the city through Engage Toledo which will then take care of trees on public property. For trees on private property, the Division of Forestry will investigate if the tree is overhanging or interfering with the street or public right-of-way. If the investigation crews deem the tree unsafe, they will issue a nuisance order.
The property owner must deal with the tree within a specified time frame. If the property owner does not, city employees will cut down the tree at the owner's expense.
Trees on private property are outside of the city's jurisdiction. Neighbors must settle tree-related disputes. They can use mediators at the Human Relations Commission or the Toledo Police Department's Community Service Officers.
See a spelling or grammar error in our story? Please include the title when you click here to report it.
Copyright 2023 WTVG. All rights reserved.