Dog found beaten to death on public trail in Fremont
The Sandusky Co. Dog Warden posted a graphic picture to Facebook in an attempt to generate leads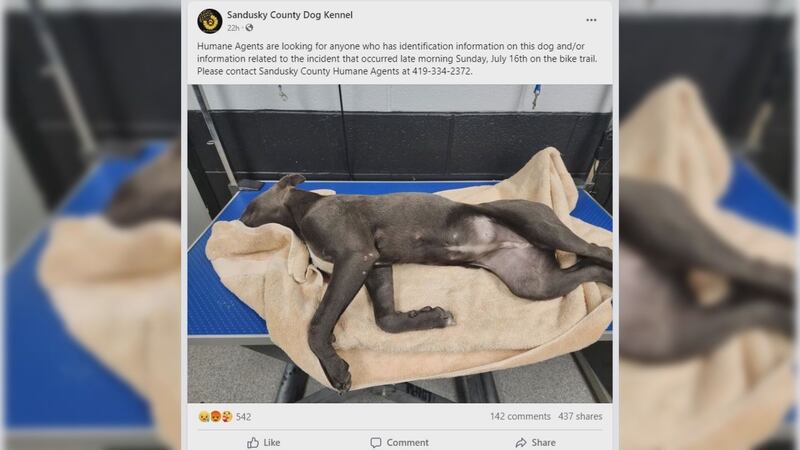 Published: Jul. 17, 2023 at 6:31 PM EDT
FREMONT, Ohio (WTVG) - It's a heartbreaking image of a dog apparently killed at the hands of abuse.
"Just from the evidence at the scene, it appeared the dog died from blunt force trauma to the head," said Kelly Pocock, The Sandusky County Dog Warden. Pocock posted a picture of the lifeless animal on Facebook in the hopes of generating some leads.
"Anybody that saw anything, no matter how small they think it - of a detail that they think that it might be, it could be a huge detail to us," added Pocock.
At about 11:45 AM Sunday, July 16, 2023, Fremont Police contacted Animal Cruelty Investigators after someone riding a bike called 911 about the dog. The dog's body was off the North Coast Inland Trail near Roger Young Park, along the bank of the Sandusky River. Pocock says it appears someone beat the dog on the trail, then dragged her body toward the river.
A sign on the tunnel states "Surveillance Cameras In Use," but Pocock says they are not pointed in that direction. She sent the dog's body for a necropsy at OSU. It will help determine how the dog died. Until then, she's asking anyone with information about this 2-to-3-year-old Pit Mix, or anyone who may have seen anything Sunday morning, to come forward.
"I mean, so off and on, we're seen violent cases like this. We don't deal with many of those, so they do hit a little harder when we have to deal with something where a life was taken so violently, but we just, I mean, you do the job the same way so that you can get justice for the animal," said Pocock.
Animal Cruelty is a felony charge that could result in one year behind bars. If you have information, you can contact the Sandusky Co. Dog Warden by clicking here.
See a spelling or grammar error in our story? Please include the title when you click here to report it.
Copyright 2023 WTVG. All rights reserved.