AG Yost, FTC announce initiative to combat illegal robocalls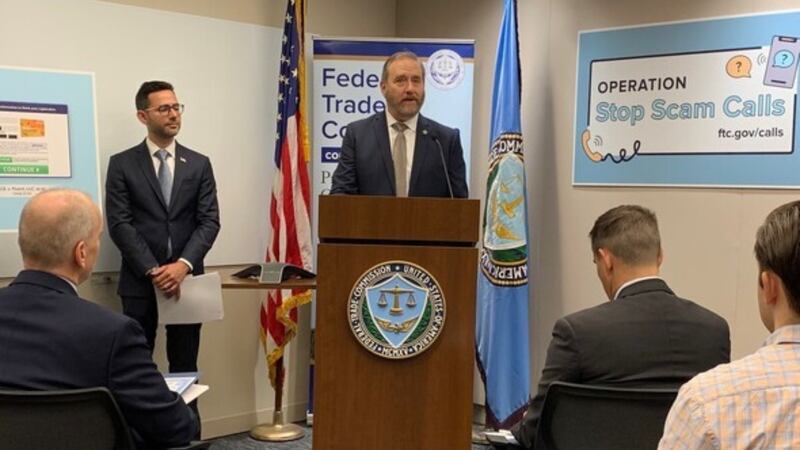 Published: Jul. 18, 2023 at 1:40 PM EDT
TOLEDO, Ohio (WTVG) - Ohio Attorney General Dave Yost, with the Federal Trade Commission and other states across the country, announced an initiative on Tuesday that expands on the crackdown on illegal robocalls.
Operation Stop Scam Calls, a joint state and federal initiative, builds upon the ongoing efforts of Ohio and other states trying to combat the persistent problem of robocalls and other unlawful telemarketing.
AG Yost's office says the illegal robocall operations are responsible for inundating consumers with billions of unwanted calls.
"Our collective efforts – from this sweep to the Anti-Robocall Litigation Task Force and beyond – help us to expand our playbook, allowing us to outwit and defeat these perpetrators in their own arena," said Yost. "Our secret weapon is consumers – whom we urge to continue reporting illicit robocalls, so we can sever these unwanted illegal robocallers' connection once and for all."
According to AG Yost's office, the initiative targets not only telemarketers and the companies that employ them but also lead generators who deceptively collect and provide consumers' phone numbers to robocallers, falsely representing that these individuals have consented to receive such calls.
Operation Stop Scam Calls will also focus on the Voice over Internet Protocol service providers that facilitate tens of billions of illegal robocalls annually. Many of those calls often originate from overseas.
"Today, government agencies at all levels are united in fighting the scourge of illegal telemarketing. We are taking action against those who trick people into phony consent to receive these calls and those who make it easy and cheap to place these calls," said Samuel Levine, Director of the FTC's Bureau of Consumer Protection, who appeared at a news conference in Chicago announcing the initiative. "The FTC and its law enforcement partners will not rest in the fight against illegal telemarketing."
AG Yost's office says consumers who receive unwanted calls can complete an Unwanted Call Notification Form by clicking here. That information is directed to the Robocall Enforcement Unit, which uses the reports to identify trends to protect Ohioans.
See a spelling or grammar error in our story? Please include the title when you click here to report it.
Copyright 2023 WTVG. All rights reserved.