Flyer popping up at some people's front doors could be a scam
Published: Aug. 19, 2023 at 11:20 AM EDT
TOLEDO, Ohio (WTVG) - A possible scam is concerning some Ohio homeowners that received a bright yellow sign urging them to call a specific phone number as soon as possible.
"It basically said that they're conducting a private investigation and I had no idea what it was for," said Haylee Cargill who says she and her family came home the other day to find it hanging on the door to their Toledo home.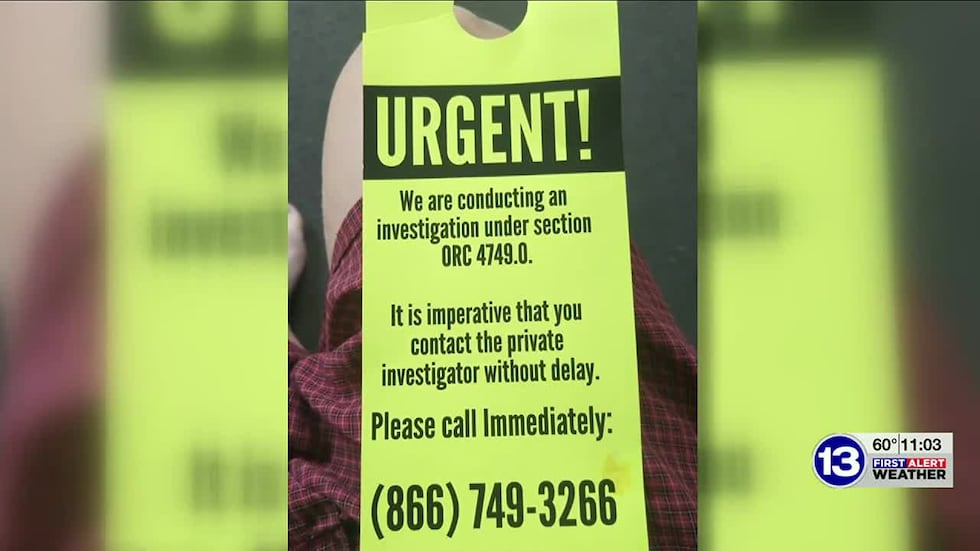 She says the first thing she did was call the number located at the bottom of the handout. "But then nobody answered after that, even after typing in the extension number and so I called TPD and they said that's not one of their numbers, they don't recognize it."
After speaking with Cargill, we contacted the Ohio Attorney General's Office, to see if anyone else has reported the flyer.
This is what a spokesperson there said:
We have been made aware of this. We cannot say for certain this is not from a PI; however, these are the signs of scam that consumer should keep in mind:

-Being asked to wire money to a stranger or friend in need

-Being selected for a mystery shopping job, especially if you never applied

-Pressure to "act now!"

-Being asked to buy a prepaid money card

-Sending money in advance to secure or insure a loan

-Winning a contest you've never heard of or entered

-Having to pay a fee to receive your "prize"

-Requests for your personal information

-Requests for a large down-payment

-A company that refuses to provide written information

Individuals in Ohio who suspect a scam can report their concerns to the Ohio Attorney General's Office through www.OhioProtects.org or by calling 800-282-0515.
13 Action News googled the number, 866-749-3266, but nothing notable came up. We then called it and spoke with someone named "Investigator Madeline".
She asked for details such as name and address, we asked her to clarify who she was, and this is what she said, "My name's Madeline and I work with the state of Ohio. I work with different repossession companies and I also take phone calls for people who get letters from the court system."
So, could this be a scam? Maybe, but based on what this woman told us, and unlike the flyer says, this is a repossession company, meaning they could be contacting people under false pretenses.
See a spelling or grammar error in our story? Please include the title when you click here to report it.
Copyright 2023 WTVG. All rights reserved.