BVM, Ohio Unity Coalition to visit Toledo to mobilize Black voters, advocate for reproductive freedom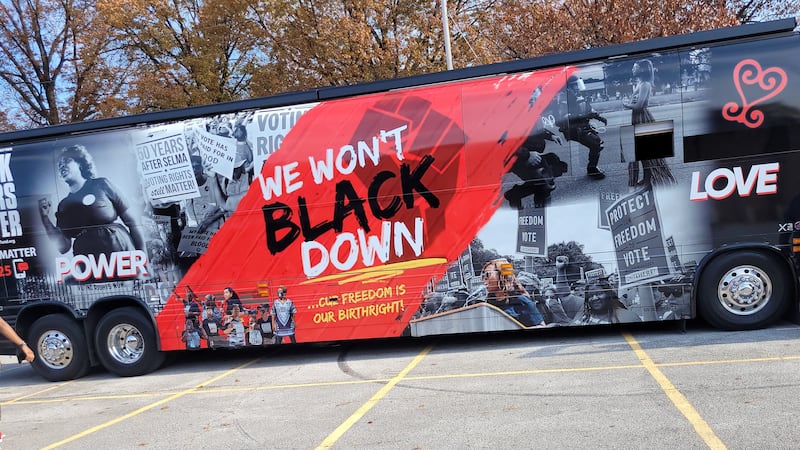 Published: Nov. 2, 2023 at 12:04 PM EDT
TOLEDO, Ohio (WTVG) - Black Voters Matter and the Ohio Unity Coalition are visiting Toledo on Thursday to help mobilize Black voters and to advocate for reproductive freedom ahead of next week's election.
The rally will take place on Nov. 2 from 5 pm. to 6:30 p.m. at Smith Park located at 998 Dorr St.
According to organizers, BVM and the Blackest Bus in America is visiting Toledo, and other Ohio cities, as part of its "We Won't Black Down" bus tour. In partnership with Ohio Unity Coalition, the aim is to mobilize Black voters and engage with local policymakers, faith-based leaders, Black influencers and HBCU students leading up to the Nov 7 election.
BVM and a coalition of groups are working on the ground on behalf of Black and Brown communities to help increase voter turnout and mobilize Black voters statewide to realize the power of their vote.
Organizers say this election is particularly significant as it provides Ohioans with an opportunity to protect reproductive rights, expand protections for recreational marijuana use and advance economic opportunities for Black citizens in the state.
"BVM understands that the current attack on a woman's reproductive freedom is about power, force and control, not abortion," said BVM. "A woman's right to make reproductive health care decisions, including those related to their own contraception, fertility treatment, pregnancy, miscarriage care and abortion should be free from government interference."
Although Issues 1 and 2 are driving the state's political conversation, organizers say BVM recognizes the need to uplift other critical issues facing Black communities as well, including education, healthcare, criminal justice reform, climate, and the attacks on voting rights in Ohio.
See a spelling or grammar error in our story? Please include the title when you click here to report it.
Copyright 2023 WTVG. All rights reserved.