GM, UAW contract announced: Here's what's included in the deal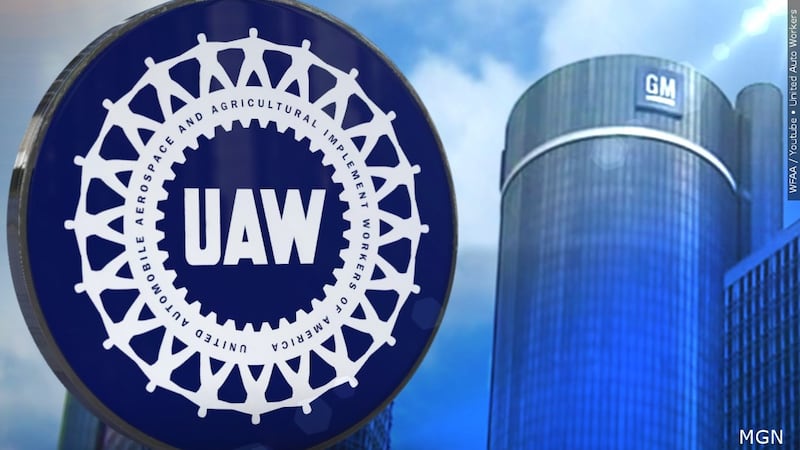 Published: Nov. 4, 2023 at 10:56 PM EDT
LANSING, Mich. (WILX) - UAW President Shawn Fain and Vice President Mike Booth have disclosed the details of what they're calling one of the most valuable contract deals in recent UAW history.
General Motors is the last of the auto industry big three to enter a tentative agreement with autoworkers. Before individual employees vote on the deal, Fain and Booth laid out its details in a livestream on Saturday, urging workers to take the offer into careful consideration.
"Sit down and read it. Talk to your coworkers," Fain said. "Talk to your families, and let's move forward together."
Booth said the current contract is worth four times more than the UAW's previous contract with General Motors, which was signed in 2019, after an earlier strike that lasted 40 days. He and Fain attribute the "historic contract" to the UAW's stand-up strike method.
If the deal is signed, key wins for General Motors workers include a 25% wage increase over the course of the four-year contract, with an immediate 11% raise upon signing. Workers were also able to bargain for the return of the Cost of Living Adjustment, or COLA, which Fain said protects and advances wages with inflation.
For temporary employees working full time hours, they would be made permanent employees after 90 days on the job, a change that Fain said is designed to prevent auto corporations from hiring temp workers without paying them the full range of wages and benefits allotted to General Motors employees.
Employees returned to work at General Motors plants across the U.S. this week, but whether they stay there, depends on their vote.
"If we agree on the terms of the tentative agreement, then we stay at work," said Local 602 President Mike Huerta, after initial news of the tentative deal spread. "If we don't, then we go back to the negotiating table."
While some experts have predicted an increase in the cost of vehicles as a result of the new automaker contracts, Fain and Booth pushed back, saying vehicle prices are, and always have been, in the hands of automakers. A more detailed outline of the tentative deal between General Motors and the UAW has been made available on the UAW's website.
You can watch Saturday's livestream in full here: UAW shares details on its tentative agreement with General Motors
Subscribe to our News 10 newsletter and YouTube page to receive the latest local news and weather.
Copyright 2023 WILX. All rights reserved.