Flint United Auto Workers union votes 'no' on proposed GM contract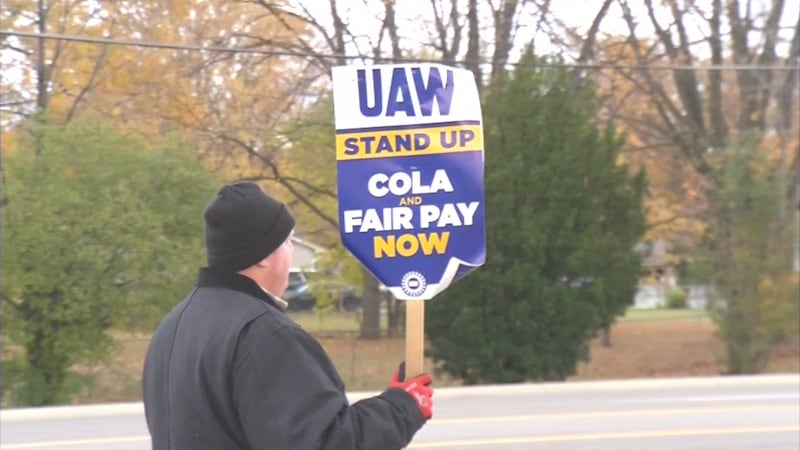 Published: Nov. 10, 2023 at 1:20 PM EST
|
Updated: Nov. 10, 2023 at 1:30 PM EST
FLINT, Mich. (WNEM) - The General Motors Flint Assembly Plant, UAW Local 598, has voted "no" against the proposed contract with GM.
UAW President Shawn Fain said the tentative agreement with GM would have given UAW workers an 11 percent initial wage increase.
Related: UAW reaches deal with General Motors that ends strikes against Detroit automakers pending votes
The contract, which was proposed by GM on Oct. 30 and covers 46,000 workers overall, would have given autoworkers a 25 percent base wage increase through 2028 and would cumulatively raise the top wage by 33 percent, compounded with the cost-of-living adjustments to over $42 per hour.
The contract would have also let workers reach top wages in three years instead of eight, and would have protected workers' rights to strike over plant closures. It would have also ended wage tiers.
This is the most lucrative contract for salaried GM workers in history.
A local UAW picketer Jeff Cusenza said he still wanted to see pensions returned as well.
"It's a very good offer, but in the long run, what do you have when you retire? What do you have when you leave?" he said. "And the young people don't see that, they're not looking at the future. […] But the people that have been here, been through it and lost everything, they deserve to get it back."
Related: Local UAW members respond to tentative agreement with GM
On Thursday, Nov. 9, Local 598 in Flint said 51.8 percent of union members voted "no" on the proposed contract.
Erik Gordon, a professor with the University of Michigan's Ross School of Business said the vote to reject the deal is not good news for Fain and the automakers.
"It's a little bit of a surprise, but they're not the first local to vote it down," he said. "It's certainly not good news for GM, probably not good news for UAW President Shawn Fain. He staked his reputation on this agreement being historic, that this is a breakthrough for the UAW, that it's a breakthrough for the labor movement in general, and he intends to use these agreements to unionize currently nonunion car plants."
He said Local 598′s decision could highlight a growing concern within the UAW: division among its members.
"There are differences of interest within the UAW membership. There are people who are within a few years of retirement. They're more interested in getting what they can get now and getting retirement benefits," Gordon said. "There are younger workers who say, 'I want to have this job for 20 years. Don't do anything that blast that up.'"
He said after already having a long, drawn-out battle with the Big Three, he doesn't see much coming out of another proposed contract from GM.
"I think it's unlikely that any car company is going to put a significantly better offer on the table. They might put an extra five or 10 cents on the table, but this has been a slugfest. They went through a long strike. They already think they may have stretched too far. They're not going to put a lot more on the table," Gordon said.
Gordon said he thinks public support could sway away from the UAW after Local 598 turned down the contract.
"I think the public now is going to say, 'Wait a minute. Are you folks just greedy? You got a great deal and you turned it down?'" Gordon said.
Subscribe to the TV5 newsletter and receive the latest local news and weather straight to your email every day.
Copyright 2023 WNEM. All rights reserved.