Sacred Heart Catholic Church to close its doors after 140 years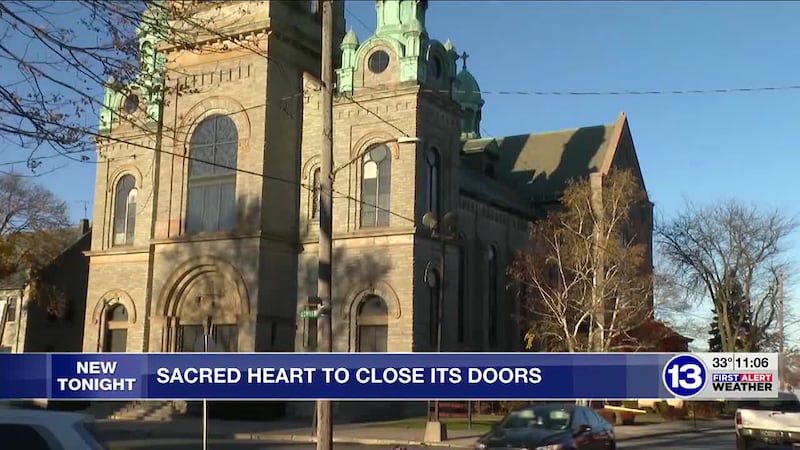 Published: Nov. 15, 2023 at 6:26 AM EST
TOLEDO, Ohio (WTVG) - According to letters of decree written by church leaders, Sacred Heart Catholic Church's last Sunday mass will be January 6th, 2024.
The decree states in part, "Architects assessed all three campuses of Epiphany of the Lord Parish. They confirmed overwhelming, burdensome repair costs, particularly for Sacred Heart Church. More than $1,000,000 worth.
You can find the full decree here.
Long-time parishioner, Diana Schroeder was devastated by the news. "It has been here what, 124 years, and it's also like a big part of Toledo history, East Side history."
She says Sacred Heart is also a big part of her family's history.
"My great-grandparents brought their children and my grandmother and my mother, and they baptized in this church and everything all the way down to my children," said Schroeder.
A social media post about the closing generated hundreds of comments with many people echoing Schroeder's disappointment.
She says she is trying to stay hopeful when it comes to saving the church, but knowing it isn't part of the national registry of historic places, and that there is not enough money to repair major structural issues, Schroeder realizes keeping Sacred Heart around, may be far fetched.
As for the sacred items inside the church, the decree says they will be removed properly before anything happens to the building.
See a spelling or grammar error in our story? Please include the title when you click here to report it.
Copyright 2023 WTVG. All rights reserved.