Why student shadow days are so enlightening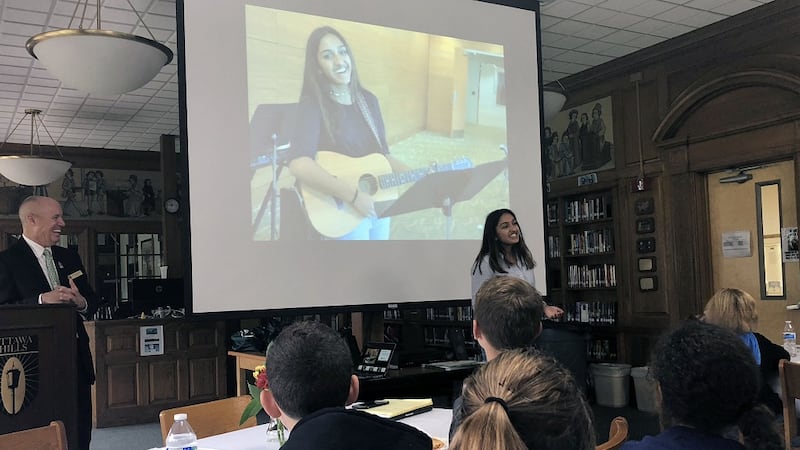 Published: Mar. 19, 2019 at 10:08 AM EDT
Chances are, you've driven past a school you've thought about sending your child to, but have never actually gone inside. Maybe you thought it premature. Or, maybe your family's life is hectic enough without squeezing in a school visit.
However, school visits (also known as shadow days) are invaluable. Simply driving by (even if it's almost every day) doesn't give you or your child a real feel for life inside those brick walls. After all, you can't judge a book by its cover.
This article will look at the benefits of encouraging your child to shadow another student at a school you're considering, and why you should sign up your child for a shadow day.
1. It gives your student an inside look at a typical school day.
It's one thing to see a sample schedule or hear stories from friends who attend. It's quite another to walk the halls, participate in classes, and eat lunch surrounded by peers.
2. It lets your student experience an average class size.
Student-teacher ratios vary drastically from district to district and school to school. It's important that your child feels comfortable with how many others would be in each class.
3. It's a great opportunity to ask questions.
There are no silly questions, especially when you and your child are trying to make a decision about a school. So, encourage your child to think about what they'd like to learn and make sure they feel comfortable asking students and staff.
4. It's a wonderful way to experience the library and computer lab.
A lot of schools like to tout their technological offerings and expansive libraries, but you never really know what it's like until you see it for yourself. Are the teachers using interactive whiteboards? Is every student using a school-supplied laptop?
5. It gives your student a glimpse into sports, clubs and extracurricular activities.
Now, your child may not be staying after school to play soccer with the team on a shadow day. But perhaps he or she will meet some players, get a chance to talk to a coach or the choir or band director, if that's what interests them. Shadow days give prospective students an opportunity to learn about school sports, clubs, and extracurricular activities from those who actually participate in them.
6. It allows your student to see if there is any chemistry there (not the test tube kind).
The only way to find out if your child feels comfortable in a new school is to let her or him attend, even if only for a day. Though brief, a school visit can calm some common anxieties like, "Will I fit in?" "Will people talk to me?" "Are the teachers nice?"
Interested in Shadow Day at Ohio's #1 school district?
Ottawa Hills Local Schools is known for its challenging yet nurturing, well-rounded education. It's also very proud of its low student-teacher ratio (14:1 in elementary school and 11:1 in the junior/senior high schools), in addition to offering 17 AP classes and providing a personal Mac laptop or Chromebook to every single student. The school district also is committed to encouraging student involvement in extracurricular activities and offers all major sports and activities from Quiz Bowl and Science Olympiad to robotics and a regionally known stage and performing arts program.
Sound like a good fit for your family? Enroll your student for Shadow Day at Ottawa Hills Local Schools. Students currently in 4th through 11th grade are invited to attend on Friday, April 5, from 8:00 a.m. to noon. Students will attend classes and interact with students, teachers, guidance counselors, and administrative staff. They'll also get to enjoy an informational lunch along with their parents.
Interested, but think your child can't attend Ottawa Hills Local Schools because you live out of district? Not a problem. Ottawa Hills Local Schools has a
that allows students who don't live in the district to attend.