Arrest made in racially charged vandalism on Ogden Ave.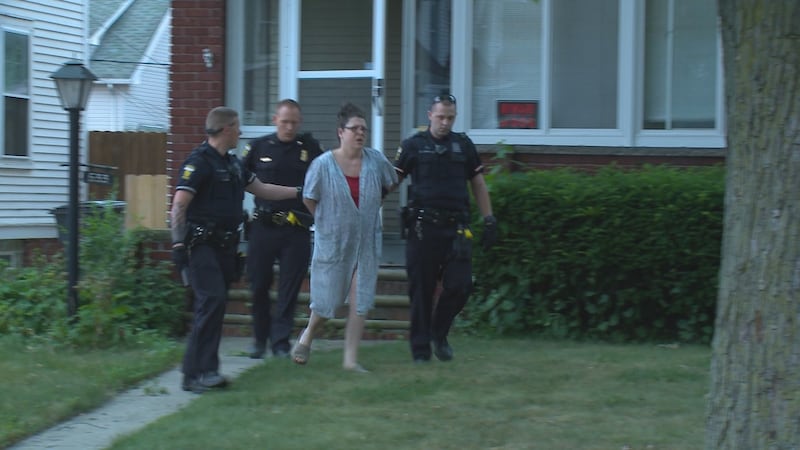 Published: Jul. 14, 2018 at 10:03 PM EDT
Toledo police arrested Patricia Edelen for spray painting racial slurs on her neighbor's home Friday night.
"She had multiple warrants. She ran from the officers inside her residence. The officers were forced to make forced entry into her residence and took her in to custody without further incident," said Sgt. Paul Davis.
Police patrolled Ogden Ave. Saturday afternoon waiting for proof Edelen was home. Police say once she let out her dog, they went inside and arrested her for three first-degree misdemeanor charges.
The police report lists the charges as "ethnic intimidation by reason of race, color, religion or national origin, criminal mischief, and criminal damaging/endangering property to cause/create substantial risk of physical harm."
The police report says Edelen spray painted "N" (word) stay out" "Hail Trump" and a Swastika on her neighbor's home.
Chris lives next door to Edelen and says he's had issues with her in the past. He says he installed surveillance cameras on his home because of her.
Police used the video from his cameras to identify Edelen are said they can not share the video with 13abc at this time.
Chris described the video.
"I can see her going across, I can see her shaking a can of spray paint, and we can see this person spraying. We can hear the person spraying and walking back across, and she made multiple trips," said Chris.
Pat Balderas lives a few doors down.
"It's a hate crime, it's more than a misdemeanor. It can't happen, it has to be stopped," said Balderas.
The vandalism is now gone. Several community members and neighbors came together to wash away the racial slurs from the brick home.
"The good feeling that came from fixing that situation outweighed the initial shock of 'whoa in my neighborhood?." said Balderas.
Edelen is being held in the Lucas County jail.