Artist paralyzed in 2010 accident showcasing art at Toledo Zoo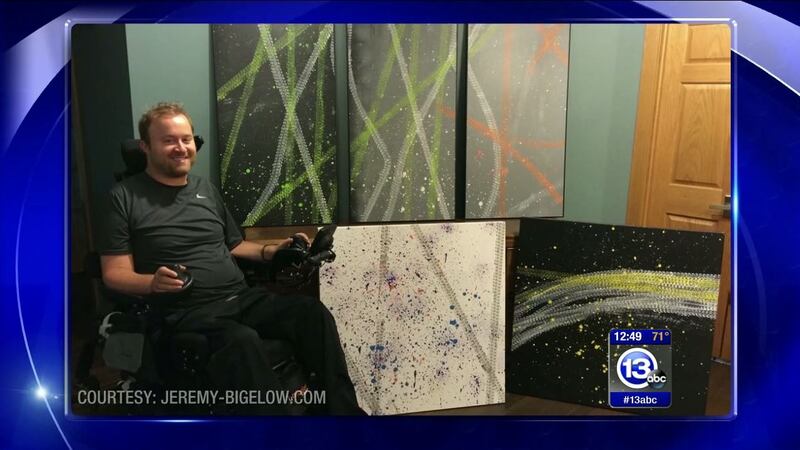 Published: Aug. 4, 2017 at 11:14 AM EDT
Jeremy Bigelow is from Sylvania; a former Northview High School athlete.
Jeremy recalls, "Coming from a background of being athletic and very active and independent, and at the drop of a hat, things change in your life, you get to make a choice."
That change came in October 20-10, when a car accident left him paralyzed from the neck down. But, he made a choice: to stay positive and keep going. And he does that through art.
"I use the tracks of my chair, the wheels, and I have different adaptations, modifications, that I put on my chair to come up with any design."
Jeremy says that being creative was his passion growing up, but lost touch with his artistic side in college.
Now that he's gotten back into painting, things are different. He says without his family and friends, called Team Biggy, his art wouldn't be possible.
"Yeah, it's my chair, but it comes with a lot of elbow grease, scrubbing tires, getting the paint off, and different modifications for my chair, with brushes."
Jeremy's rehabilitation involves rigorous physical therapy, not covered by insurance.
So, he's trying to raise the money through selling his paintings.
"I have limited function. Where there's a will, there's a way. And I'm determined to figure all that stuff out."
Jeremy says he'll have around 20 paintings for sale this weekend at the Toledo Zoo's first-ever Wild About Art Fair Saturday and Sunday.
If you can't make it to the zoo this weekend, but still would like to donate to help pay for his recovery, the Biggie Classic Golf Fundraiser is happening August 26th at the Bedford Hills Golf Club. You have the option to golf, or Jeremy says you're welcome to sponsor a hole.