BGSU students gather to discuss the importance of diversity, inclusion through sports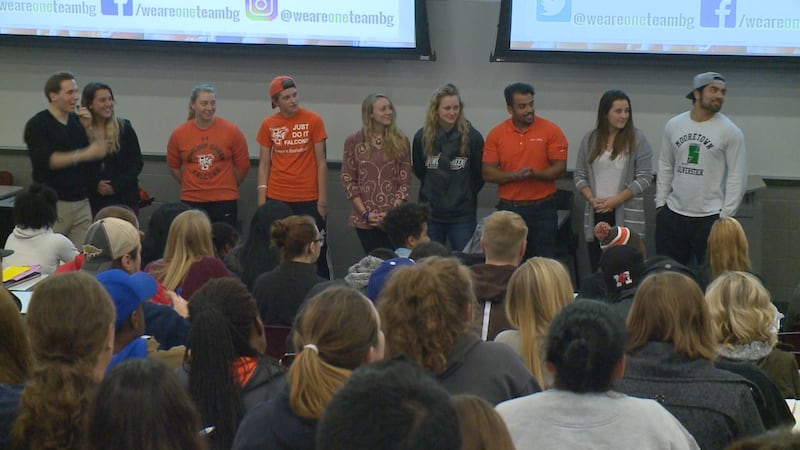 Published: Nov. 16, 2016 at 10:02 PM EST
Students of all walks packed Bowling Green State University's Olscamp Hall for a chance to learn about the legacy of boxing great Muhammad Ali.
Speakers from The Muhammad Ali Center talked about the importance of diversity and inclusion on campus and beyond.
"I think this message is so important right now--maybe more important than it has ever been before this century," said We Are One Team President Yannick Kluch.
Right now things are unsettled on campus with reports of racial slurs and even violence.
The most recent happening Tuesday night when a male student reported to campus police that he was assaulted behind the student recreation center and called a derogatory term.
Students say the violence is something that's unacceptable on their campus.
"For someone to be racist, I think that's just a waste of their time and they shouldn't be here if they're going to be racist," said BGSU sophomore Matthew Salmon.
"I don't think it's acceptable on any college," said BGSU junior Jennifer Reyes. "No college wants to see that or hatred towards people or anything."
The event was organized by a student group known as We Are One Team which focuses on creating dialogue around stereotyped and minority groups.
The group's president hopes a forum like this shows the BGSU community is stronger than those committing hateful acts on campus.
"We really want to send this message that, you know, at BGSU we are all one team," said Kluch. "No matter the color of your skin. No matter your sexual orientation—your ability status—we are all one team and all in this together."
A campus community trying to stand together as one to ensure everyone is included.
Members of We Are One Team at BGSU say the group is open to everybody: not just athletes.
If you're interested in finding out more about the group and the programming it does, just follow the link to the right of this story.