Defiance football seniors buy a new bike for a freshman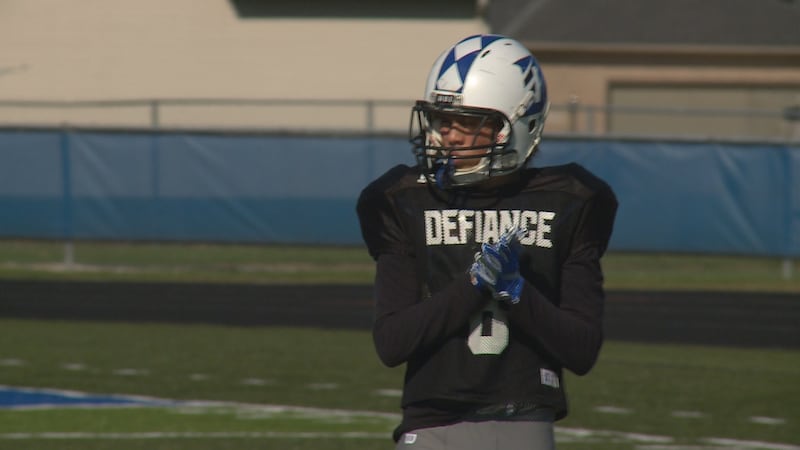 Published: Oct. 10, 2019 at 6:33 PM EDT
Sometimes riding a bicycle is the best way around town.
"My brothers, they take a long time to get ready," Defiance High School freshman Blaze Fitch said. "I have to take a shower in the morning and usually I don't have the time to, so I wind up missing the bus. So I don't really have a choice."
Fitch rode his bike eight miles round trip to school last year when he was a student in Antwerp before moving into Defiance for a four-mile round trip to his new school.
Sept. 30, 2019 was a busy day for Fitch - school, football practice and the Defiance High School homecoming bonfire.
Following the bonfire, Fitch walked to his bike to head home after an 11 hour day only to find someone stole his bike.
"I wasn't really thinking at the time because ... it's just a big blob," Fitch said.
Word of the stolen bike quickly spread to his football teammates.
"We were both upset," Defiance senior Tyrel Goings said when he and fellow senior Zach Parrish heard about the theft. "We don't want anyone to have their property stolen, let alone if everyone knew that was his only way of transportation to school."
Goings and Parrish are two of the four captains on the Defiance varsity football team this season. These two led the effort to collect money so they could buy Blaze a new bicycle.
"Seeing that he was coming there on his bike every single day no matter what, on his bike, showed that he was dedicated to this sport," Parrish said. "When we talked to his mom, she told us that basically football is his life. He basically lives and breathes this sport."
Fitch says he now saves about 10 minutes on his trips to school with this new, faster bike.
"I gave them a hug and all that cause they let me know that I am in a good place and that they got my back," Fitch said.
So where is the stolen bike? Two days after all of this attention around Defiance schools, the bike found its way back to the bike rack.
"We all just kind of laughed at the situation because someone kind of had the audacity to ride this bike back to school," Goings said.
Defiance head football coach Kevin Kline says there was never any intention by Goings and Parrish to receive any attention for this act of kindness with their teammate.
"We're struggling this season in terms of wins and losses," Kline said. "But then you step back and you kind of realize, 'Hey, there is some bigger things out there that you're trying to accomplish.'" And when you see guys that you've impacted, that you've been able to influence and be around step up and do that, you realize its more than just a game."