Effort underway to keep motorcyclists safe on Ohio roads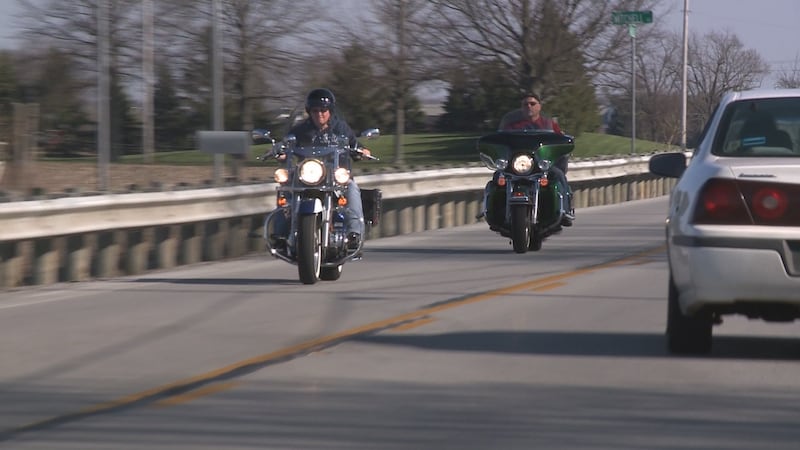 Published: May. 1, 2017 at 5:34 PM EDT
According to the Ohio State Highway Patrol, there were about 4,000 motorcycle accidents in Ohio last year.
May is motorcycle safety month. As we all get used to sharing the roads again, there are some important reminders for bikers and motorists. Monday, local police and motorcycle safety experts got together to share information to help keep us all safe.
Mike Stock is a Safety and Educational Director with American Bikers Aimed Toward Education or ABATE of Ohio, "There are about 480,000 motorcycles registered in Ohio."
Stock says that number puts the state in the top five when it comes to motorcycle ownership.And the numbers keep going up. Which means it's more important than ever for everyone to pay attention, "The biggest issue facing bikers right now I believe is distracted driving, Because of that you need to ride defensively at all times."
Jamie Blazevich is a Traffic Program Safety Coordinator with the Educational service Center, "Anytime you take your eyes off the road you are putting yourself and others in danger. We all need to be respectful of each other. We need to follow the laws, they are there to make sure we are all safe. "
Sgt. Tom LaForge heads up the Toledo Police Motorcycle Unit. He says there are some simple reminders for all of us that are worth repeating, "For the cars make sure you look twice. Watch your blind spots when changing lanes. Watch when you're pulling out. And always look for the single headlight."
For the bikers, Sgt. LaForge says take time to check your bike over or send it to a mechanic before heading out and then go for a test drive, "Go out into a parking lot and practice your skills. Try some quick stops and speed maneuvers Get used to riding your bike again."
While state law only requires riders under 18 and those with less than a year of motorcycle experience to wear helmets, Sgt. LaForge says he won't ride without one after a serious accident, "I suffered 3 broken ribs, a broken collar bone, a hip injury and torn ligaments in my knee.I also suffered a concussion because I had no helmet on."
According to the State Highway Patrol, 200 people were killed in motorcycle accidents last year. The number of fatal motorcycle accidents in the state increased 45% from 2014 to 2016
There are a number of motorcycle safety and education programs offered throughout the region.