First look at Jeep production lines inside the Toledo Assembly Complex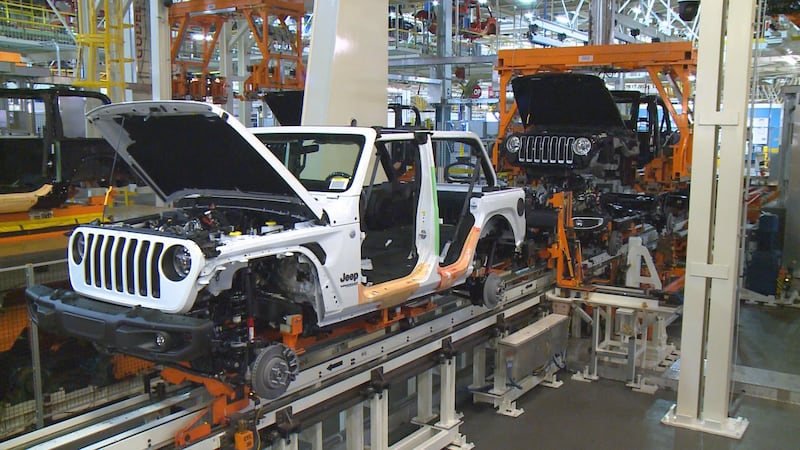 Published: Nov. 16, 2018 at 4:08 PM EST
It was a first at the Toledo Assembly Complex Friday. The plant is building hundreds of thousands of Wranglers every year, and we got a look at the production lines.
We've seen the new Wrangler on dealer lots and out on the road all year. However, until today we hadn't seen the production lines inside the plant. Chuck Padden is the Toledo Assembly Complex Manager, "Everything came together very well. It's been a great year. We have built more than 300,000 Wranglers so far this year, and that's even with construction going on at the south plant. Our product has been very well received, and our quality numbers are great."
Moving Cherokee production out of Toledo has helped the complex expand Wrangler production and keep up with world wide demand.
The Toledo-built workhorse is sold in more than 100 countries. Kevin Monahan has worked at the plant for more than a decade,"People can't get enough of the Wrangler, and we are now able to meet that demand."
Jack Fox gave us an up close look at part of the process of building the new Wrangler, "This is what we call the body/chassis marriage station. It's where the body is lowered onto the chassis. It is a fully automated system."
Thousands of people work here, and the lines run seven days a week. One thing we heard over and over was how important the workforce is to the success of the iconic SUV. Oni Powell is an engineer on the lines,"When you think about Toledo you think about Jeep. There is no place they could build them any better. When you walk around the plant you can easily see how proud these people are of what they build."
The plant is also gearing up for full production of a new Jeep truck.
No one can talk specifics, but like Padden everyone is excited, "Bringing to the truck to Toledo is important to the workforce and the community. The truck means job security. It's going to be a great day."
The world will get its first look at the Toledo-built Jeep truck at the Los Angeles Auto Show later this month.