Flier about China and Ohio energy has many confused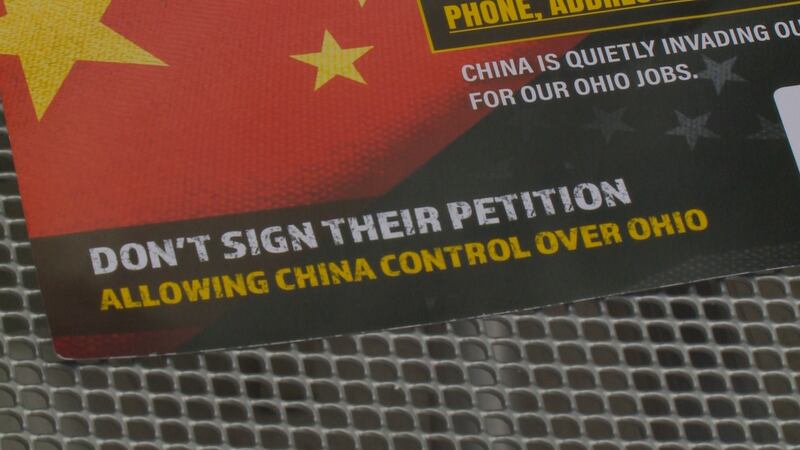 Published: Sep. 6, 2019 at 6:14 PM EDT
Have you heard about China invading the energy grid here in the US? Well if you read a recent flyer coming to area mailboxes, you might believe that's happening.
Turns out this campaign is actually focused on an issue that affects our community a great deal.
It's a little jarring for some people to look in their mailbox and see something with a giant Chinese flag in the corner. Some think little of it but we decided to ask some questions and it's an issue we've actually covered for quite a while.
You may have seen the commercial on TV or online. You might also find the flier in your mailbox. It says it's a warning about allowing china to have control over Ohio.
"I got the flyer, yes," said Don Colby, who received the flyer.
Colby took a close at the flyer. It and the commercial are paid for by a group called Ohioans for energy security. All mentioning the petition trying to overturn house bill 6.
"I wasn't really sure exactly what it was. I knew a little bit about. I saw some billboards that had the same information on it," said Colby.
You might remember House Bill 6. It's the bill that could save Davis Besse nuclear power plant in Oak Harbor from closure. The measure would add a surcharge to your electric bill to pay for keeping Davis Besse and other power plants open. There's now a petition drive to put this issue in front of voters.
"I'd like to know what the connection is for the Chinese thing before they put it on there," said Colby.
So we checked into that as well. The Ohioans for Clean Energy have tried to connect the dots, saying the group pushing the petition are connected to power companies that have received financing from Chinese companies, making what appears to be a connection between these companies and China. To the point where the flier says if you sign the petition, you are giving your personal information to the Chinese government.
We did hear from First Energy solutions, they run Davis Besse and supported House Bill 6 to keep it open. A spokeswoman says House Bill 6 actually initiated a tax and taxes are exempted from referendum or vote, under the Ohio constitution. If the petition gets enough signatures, we'll wait for the Secretary of State to make a final ruling.