Former Hotel Seagate, Convention Center to undergo major renovations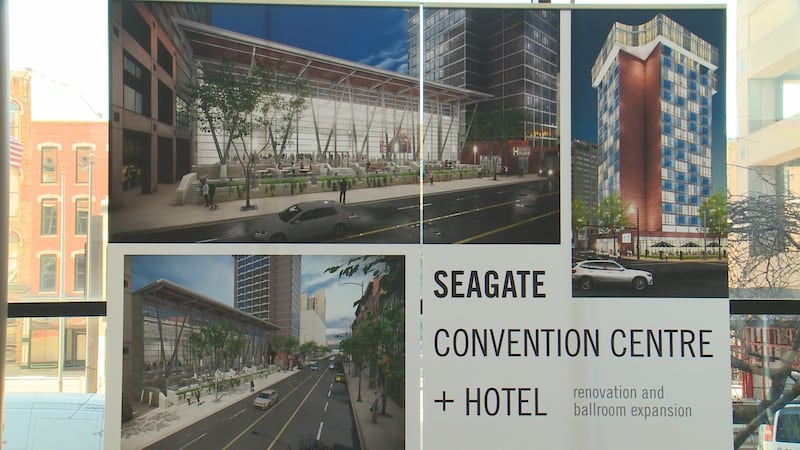 Published: Apr. 9, 2019 at 5:52 PM EDT
After years of unfinished plans and big ideas, the shell of a building on Summit street has a future.
"Welcome Hyatt House and Hyatt Place to downtown Toledo," Lucas county commissioner, Pete Gerken said.
The new hotel boasts 200+ rooms and a restaurant. There will also be some big changes for the attached Seagate Convention Centre.
"We're going from a very tired, 32-year old center, to a much needed renovated space," Commissioner Tina Skeldon Wozniak, said.
This is a $70 million investment in the heart of the city, and part of that includes the addition of a ballroom that will seat up to 1,200 people. There will also be other updates inside the building.
"No more eye sores," Skeldon Wozniak added.
This isn't the first time the county has announced plans for a new hotel. In 2017 a different company came in with promises to transform the space, instead, it simply sat there, empty.
But commissioners say this time, it's different.
"We have the right people involved and now, with the hotel coming on, it's easier moving forward with the ballroom and convention centre," Wozniak said.
"We're hoping to start the third quarter of this year and be done January of 2021," Stephen Schwartz, chairman, First Hospitality Group, said.
He tells 13abc that his team is anxious to get started and that he hopes to see the same success as they have the last three years in Toledo.
"Our Renaissance [hotel] is off to a strong start. I's been very well received which we appreciate.," Stephen Schwartz said
And he expects nothing less this time around, giving area businesses, partners and the entire city something to look forward to.
"We think this is just the beginning."