Glass mural from world-famous club is now at the Toledo Museum of Art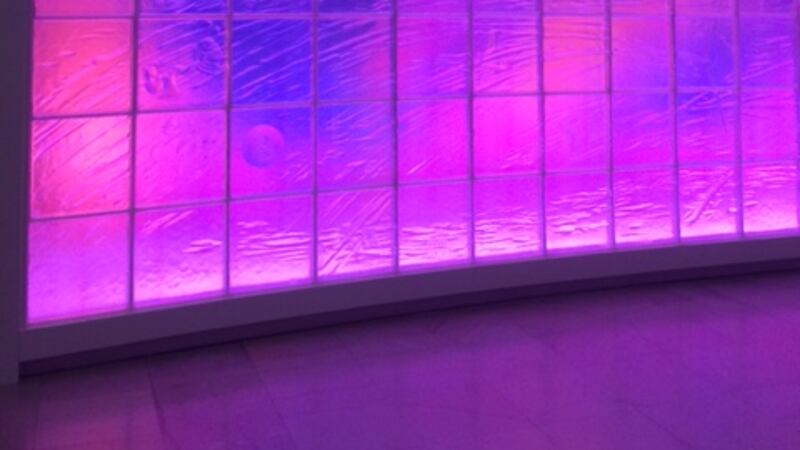 Published: Apr. 12, 2017 at 5:29 PM EDT
Toledo's nickname is the Glass City because of our ties to so many different glass products. All kinds of glass art work is a part of the collection at the Toledo Museum of Art. And there's a new piece in the collection that came from a world-famous nightclub.
Orbit is a glass mural that was part of the Rainbow Room at Rockefeller Center but it made its way from New York City to the Glass City last fall.
It was no easy task getting the piece into place at its new home. It took months to install it at the museum. Alia Orra is the museum's communications coordinator,"It took an entire team of people. The team included art handlers, the artist and his assistant came in from New Hampshire and assembled it. It took a couple months to finish the installation process. This entire corridor had to be re-worked to account for the size of this piece."
Orbit was commissioned for the Rainbow Room in 1986 It's a big piece.The mural is 15 feet by 8 feet and it changes color depending on the moment you see it. Halona Norton-Westbrook is the Director of Collections at the museum,"It has behind it a paper backing and then there's several lights that perform an on-going light show, so it changes throughout the day."
In addition to the changing colors, Halona says the artist put plenty of hidden gems in orbit, "There are lots of art historical references hidden within the work itself. Images of Venus, Picasso's bowl is in there. Hidden shooting stars It's great to come and observe it and see what you can find."
While Orbit is new to the museum's collection, the artist is not, "We have several other works by Dan Dailey in our collection, but nothing of this scale, so it is unique."
Orbit is special to Dailey. Halona says it was a very personal piece for him and that it spoke to a lot of his influences as an artist, "I think he was thrilled it was finding a permanent home in a museum. It's nice that it's had two lives in a sense, the first home at the Rainbow Room and now the Toledo Museum of Art, so it's quite a combination. It was a moment of pride for him to see the piece live on."
Orbit is now a permanent part of the museum's collection. It is free and open to the public.