Hundreds of area absentee ballots missing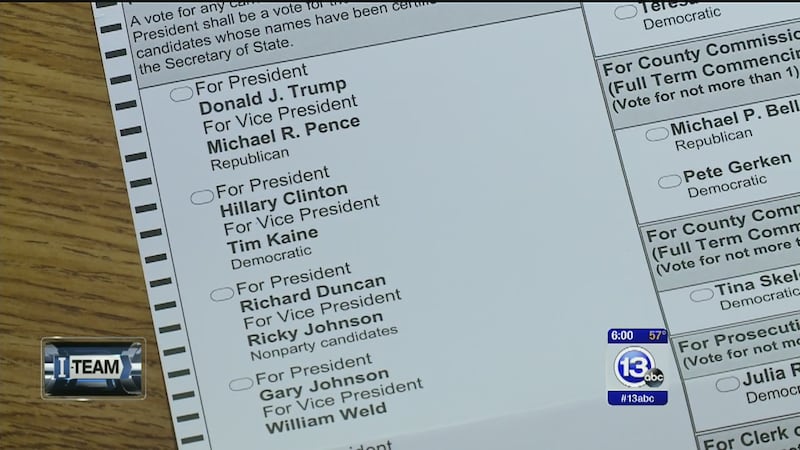 Published: Oct. 28, 2016 at 6:19 PM EDT
Hundreds of absentee ballots are missing from several counties in Northwest Ohio. Now an investigation is underway to figure out what happened.
Those ballots were requested by voters and sent out by county boards of elections in early October.
They made it to a sorting center in Pontiac, Michigan but they didn't get to where they were supposed to go after that.
We're talking about more than 400 ballots. Congressman Bob Latta and the Ohio Secretary of State met with postal service representatives. 13abc is told solutions are being sought and that some of those ballots are back on their way.
The Northern Ohio District of the United States Postal Service issued the following statement to 13abc regarding the issue: "The U.S. Mail serves as a secure, efficient and effective means for citizens and campaigns to participate in the electoral process, and we are committed to delivering election and political mail in a timely manner. In locations that have seen a tremendous increase in election and political mail volume, additional resources have been put in place to keep the network fluid. In this instance, we are working with local election officials to determine the possible cause of any issues with ballots being delayed. We are encouraged by reports throughout the weekend and will continue to work together to ensure all ballots are processed and delivered on time."
Ohio Rep. Bob Latta also released the following statement after learning of the missing absentee ballots in the Buckeye State: "I immediately spoke with representatives with the U.S. Postal Service in Washington, D.C. and Chicago to try to determine how this problem occurred and what could be done to fix it," said Rep. Latta. "At this time, I'd like to ask anyone in Ohio that has not received their absentee ballot to contact their county board of elections right away so a new one can be reissued. Also, I'd request that everyone check with friends and family that may be voting absentee — particularly those out of state — to make sure they've received their ballots. It's essential that every voice is heard this election, and we need to make sure that all Ohioans have the opportunity to cast their vote."
Other ballots may be lost and that means they'll have to be reissued.
The counties that we've found are affected are Lucas, Wood, Fulton, Defiance, Williams, Henry, and Hancock.
If you requested an absentee ballot early and still haven't gotten it, contact your county board of elections. Those ballots can be re-issued and you'll still be able to cast your ballot.
Remember your return envelope has to be postmarked no later than November 7th for your vote to count.
Here's how reissuing works: Your ballot is assigned a number. If it does not reach you that number is canceled out and a new one with a new ballot is sent to you. If both ballots are returned only yours is counted.
13abc also found out that most of the missing ballots were sent out by boards of election between October 12th and October 14.
The exact reason why these ballots are missing is still under investigation.