Jamie Farr honored with plaque in Jamie Farr Park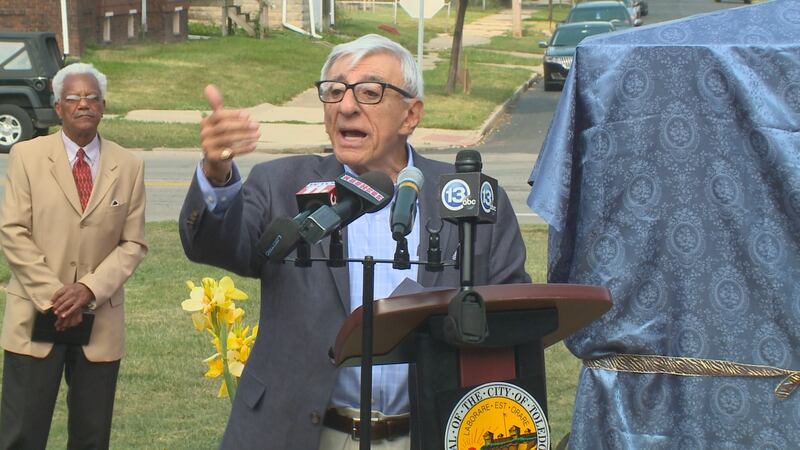 Published: Aug. 26, 2017 at 7:37 PM EDT
(TOLEDO) - Under a bright sunny sky, a new plaque honoring Jamie Farr for his hometown pride was unveiled Saturday at Jamie Farr Park.
The Toledo actor made famous as Max Klinger on the long-running hit television program M*A*S*H thanked the hundreds who turned out to see the tribute along the banks of the Maumee River in his home town. "He has never forgotten where he's come from" said Mayor Paula Hicks-Hudson. "It is really a personal honor for me...to be able to say how grateful we are to you." Farr was also host of the local LPGA Classic for nearly three decades which raised millions of dollars for local children's charities.
Farr delighted the crowd with jokes and stories about growing up in North Toledo. "I've been given so many awards...but I've got to tell you that this is probably it for me. When I tell people I have a park named after me...the great Danny Thomas has a park named after him on the south side of Toledo and I have a park named after me on the north side of Toledo. This is the only city in the United States guarded by two noses!"
Ten years ago, a plaque honoring Farr was stolen from the park and never recovered. A new plaque was unveiled and dedicated in his honor. The plaque includes a message from Farr about the importance of the park to him personally. Farr explained to hundreds of people at the ceremony that "the plaque means a lot to me. Some kid will come here and read that and maybe it will inspire them!"
Mayor Hicks-Hudson was joined by executives from the Toledo Mud Hens and Tony Packo's. Each spoke about how much Farr meant to the city he loves.
13abc's Diane Larson and Lee Conklin hosted the event and Packo's provided refreshments. Woodward High School's marching and alumni bands performed.
Mayor Hicks-Hudson said "Jamie Farr is one of our hometown heroes. We're so excited about being able to have him here." She continued that "it's important to remember that for any young person, it is possible to do whatever their dreams are and Jamie Farr is an example of that."
Farr will be Sunday's Guest on 13abc's Conklin & Company program at 11:00am.
Farr also returns to Toledo to perform in "Tuesdays with Morrie" at the Stranahan Theater on October 7.
Note: a video of the entire plaque ceremony is available on the 13abc.com Facebook page.
Friday night, Farr was honored by the Toledo Mud Hens as a member of their Celebrity Hall of Fame.