Land of the Lost: Prehistoric Forest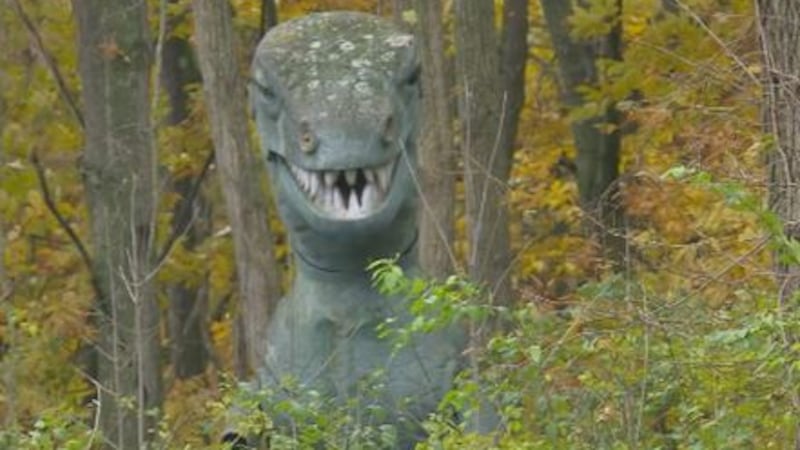 Published: Oct. 31, 2018 at 5:23 PM EDT
Some Irish Hills tourist traps are now abandoned and may be haunted.
There are dinosaurs in Cambridge. You only think they went extinct 65 million years ago. But not in this Jurassic Park. The Prehistoric Forest disappeared a second time 19 years ago. But rumor is, they're still alive
"The lights come on in the building, on and off, the animals move on different positions," Jeff Paterson said. He's the chief of police in Cambridge Township, Michigan.
Chuck Garwood was one of the first visitors to witness the mysteries inside.
"What in the world is that?" he asked of the long-necked monster in the trees.
Just off route 12, a taste of the Jurassic.
"They had the brontosaurus walking out of the woods," Garwood said.
"The animals come alive in the evening," Jeff Paterson said.
But the carnivores can't move as fast any longer.
"They were in pretty bad shape last time I saw them," Garwood said.
Now police chief Jeff Paterson is more likely to hear a trespassing call than a T-Rex roar.
"It's a weekly occurrence," Jeff Paterson said. "Several times a week. Well get calls of trespassers out here."
Many of those are adults looking for nostalgia.
"For the people they came here as a child, just a piece of their youth," Jeff Paterson said.
"I took my daughter through the train ride," Garwood said.
More for more than 30 years, kids could see the cave man, stegosaurus and woolly mammoth.
Either a ghost or the wind took the mammoth down last week.
"I don't know if it's just the lure of it being abandoned," Jeff Paterson said.
This may be one of the spookiest places in all of Michigan. But nothing will ruin your Halloween more than a trespassing citation, so Chief Paterson says stay out!