Metroparks to begin construction of $1.5 million Treehouse Village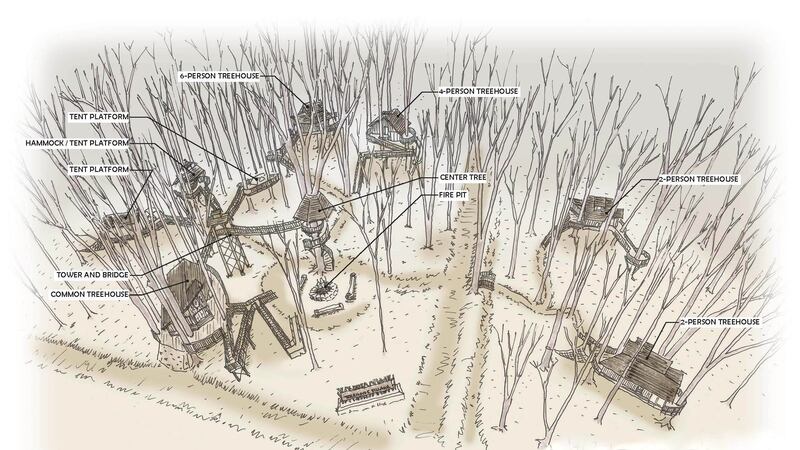 Published: Sep. 27, 2018 at 7:48 PM EDT
The Metroparks Board of Park Commissioners announced a $1.5 million Treehouse Village has begun to be constructed at Oak Openings Preserve on 9/28/18. The Metroparks Toledo Foundation will announced their campaign to raise private dollars for the Treehouse Village.
The section of Oak Openings that is being used for the treehouse village was originally owned by the Cannaley family, they sold the property to the Metroparks several years ago. The Metroparks Board of Directors voted today to name the project "Cannaley Treehouse Village."
Linda Najarian Cannaley is a Swanton-area native, her late husband, Jim Cannaley was president and CEO of Woodsage Holdings, he died on September 28, 2011.
Mrs. Cannaley is credited with being a supporter of the concept of the treehouse village since she first heard about it.
Scheduled to open in fall of 2019, the village will include:
· A six-person treehouse
· A four-person treehouse
· Two, two-person treehouses
· Three tent/hammock platforms for camping in the trees
· A common treehouse with seating for up to 49 people
· And a crow's nest linked to the common treehouse by a canopy walk
The four private treehouses and tent platforms will be available to rent for overnight stays, while the common treehouse will be available to rent for daytime use by groups.
The Metroparks construction crew is building the treehouse village, which was designed by Nelson Treehouse and Supply, the company featured in the Animal Planet TV series "Treehouse Masters." Nelson was also involved with the initial construction of phase 1.
"We're thrilled to report that no other park system in the country will have a treehouse village inspired and designed by Treehouse Masters," Mr. Savage said. "It is yet another example of the forward thinking and innovation that makes Metroparks Toledo one of the top park systems in the country. We are so grateful to the generous supporters and the Foundation, who are making this project happen in our community."
Metroparks has begun constructing phase 1, which includes the common treehouse, crow's nest and a tower that will support a cable suspension bridge. The campaign will raise additional funds for phase 2, which includes the overnight treehouses.
"The purpose of the Foundation is to raise resources and awareness to support the many great things Metroparks brings to our community," Mr. Napoli said. "The Treehouse Village is our first major project, and I'm pleased to announce that we are well on our way to making this unique new experience a reality."
As of today, $1 million dollars has been raised, according to an updated media release obtained by 13abc. Mrs. Cannaley was the largest donor with a contribution of $750,000.
It was also announced today that Therma-Tru will supply the exterior doors in the treehouse village, in addition to a financial donation. Owens Corning will also donate building materials for the treehouse village construction.
The Treehouse Village will be part of the 420-acre Beach Ridge Area, which Metroparks acquired between 2013 and 2015. The area also includes a just-completed, 12-mile mountain bike trail built largely by volunteers; Metroparks second FitPark, an outdoor fitness area sponsored by Mercy Health; and a new multi-use facility with a bicycle theme that also houses restrooms and showers to service treehouse guests.
Oak Openings already offers two campgrounds, two rentable cottages, two lakes for fishing and kayaking, as well as trails for hiking, cycling and horseback riding.
"In recent years, we have added many compelling new ways for people to connect with the out-of-doors, from new parks and trails to a 3D archery course and camping on a Maumee River island," said Dave Zenk, Metroparks Toledo executive director. "These experiences, along with the Treehouse Village, add to our region's growing reputation as a great place to live, work and play."
Mr. Zenk added that revenue from rentals will pay for the operational costs of the Treehouses, as well as outreach efforts to engage the community. For example, 20 percent of the time, the common treehouse will be used for public programs, giving everyone the opportunity to experience the unique facility.