Star Wars artist Brian Rood has enough work to fill a space cruiser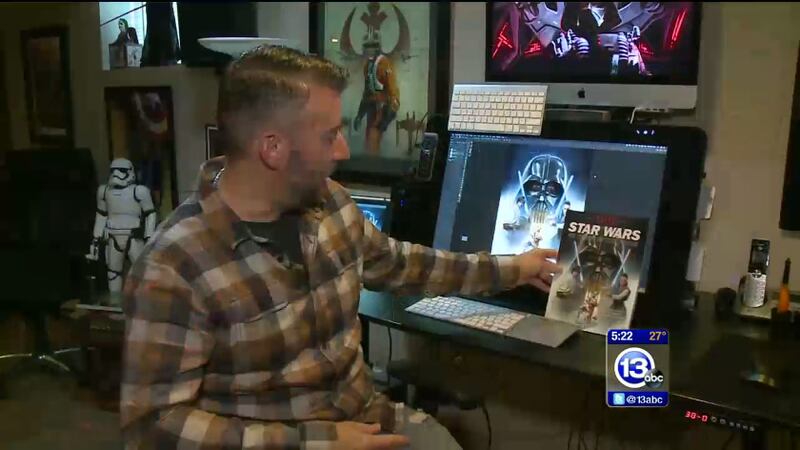 Published: Dec. 16, 2017 at 1:01 PM EST
One look around Brian Rood's basement studio and you might call it a fan cave. And it is.
But this fan created his own decor.
Rood is a fine artist. The 42-year-old lives in the Toledo area and works on projects for Lucasfilm and Disney.
His biggest projects involve Star Wars.
Rood has illustrated novels retelling the stories from the movies.
This year, he also did exclusive work for Harper's Bazaar and Time Magazine. Rood created cover art for Time's special edition magazine called "Star Wars: 40 Years of The Force." The magazine hit store shelves in November of 2017, before the latest Star Wars movie hit theaters.
"So, the phone rang," Rood explains as he reflects back on how the project started, "and it was a gentleman from Time publishing, and he said, 'We have a cover gig. Are you interested?' And I was like, 'Time? Yeah!'"
Rood's own story almost took a dramatic turn last year after he fell and broke his collarbone.
"It was like six months of misery," he says. "We shattered the collarbone in like six spots or something. Plates, screws and my body was just like, 'No.'"
The resulting infections meant Rood would have to return to the hospital for several surgeries, but the deadlines kept coming.
Through it all, he kept painting.
Now, Rood is collaborating with AMC and producing fine art for The Walking Dead; He made the Bob Ross-style paintings for the new Deadpool trailer; And when you go to see Star Wars: The Last Jedi, you might be eating popcorn out of one of his collectible bins.
"It was cool, man," Rood continues, "Yeah, that's another one of those little goofy things that come along and you're like, ah, fingers are crossed. Two movies running, I've had collectible popcorn bins here. Am I going to get a third?"
Next week, you'll be able to purchase some collectable items featuring Brian Rood's artwork. He'll be signing them at the original Tony Packo's at Front and Consaul starting at 6:00PM Tuesday, Dec. 19.
Rood will also be signing a hot dog bun that will be displayed among the many other famous signatures at the iconic restaurant.