Sweet ending to Bryan man's 48-year career at Spangler Candy Company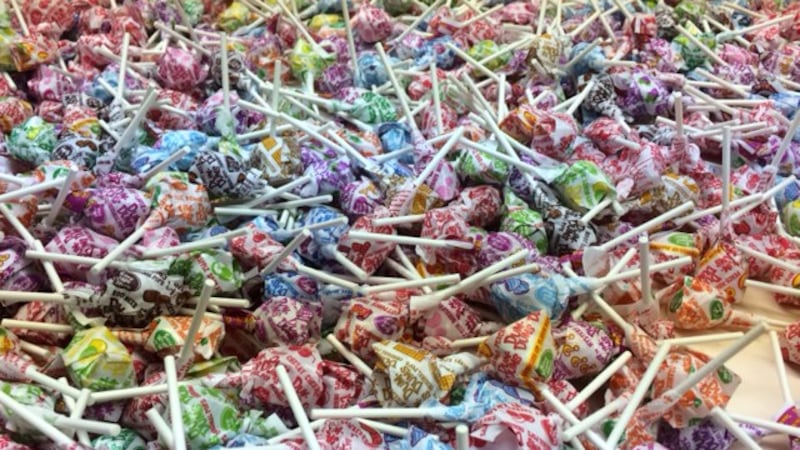 Published: Apr. 21, 2017 at 5:43 PM EDT
The Spangler Candy Company in Bryan sells it's goodies all over the globe. One of the most popular products is Dum Dums. A man who worked on the lollipop lines for nearly half a century retired on Friday.
He was a part of helping make billions of suckers during his 48-year career.
Spangler makes about 12 million Dum Dums a day. That adds up to about 2.5 Billion a year .Al Braun has had a hand in helping make more than 50 billion of them.
The year was 1969. Apollo 11 landed on the moon in July. That September, Al landed at the Spangler Candy Company. At first he didn't expect to be there long, "I came to Spangler as 90-day, temporary help..It's been a long 90 days, 48 years later."
His official title in the last 25 years was bagger operator, which means he ran the machine that puts the suckers in the bag. But Al has done a lot of different jobs at the plant through the years. His first job was making bubble gum cigarettes.He says the secret to his long run is simple, "You have to take things as they come, and be committed to your job."
Al's story is not unusual at Spangler. Decades of service is common at the family-owned company. 111 of the company's 500 employees have been there more than 25 years. Bonnie Burgbacher, who still works at Spangler, currently has 53 years on the job.
The entire candy factory celebrated Al's retirement today. But news of his departure spread beyond Bryan. His story made it around the world. It all started earlier this week. Kirk Vashaw is the CEO and a member of the Spangler family,"We dropped one post Monday morning on our social media sites. Before we knew it, 25 million people had seen the posts. That number is still growing. We've also received tens of thousands of comments on the posts."
And that was a big surprise for Al. It also meant a lot to him to see that a simple sucker has touched so many lives, "It's good to know we aren't just shipping candy out the door, people are happy because we do.That makes me feel good, because I am all about people. I like helping people. I love touching their lives."
When it comes to a favorite flavor? Al can't narrow it down to just one,"I have three actually. Lemon Lime, Blue Raspberry and the mystery flavor.I love the mystery flavor because you just never know what you are going to get, and a lot of times it's something really good! "
There have been a lot of different flavors in Al's time on the job. Just to put his time on the job in perspective, Kirk says Al has been a part of his family business since he was a little boy, "Al has worked here through four generations of Spangler family leadership, including my grandfather. I remember coming here when I was four-years-old with my grandfather, and Al was here! "
So what's next for this candy man? He says for starters, he'll enjoy not having an alarm go off every morning. He's truly looking forward to more time with his family. But it really is a bittersweet departure, "It's bittersweet because this place has been such a big part of my life. There are a lot of wonderful people here. I don't know what the next adventure God has in store for me and my wife when I leave here today, but I am sure he's not done with us yet."
As we mentioned, Spangler has more than 100 employees with more than 25 years on the job. 17 of those people have 40 or more years on the job right now.
.