Toledo-Detroit passenger rail service? It's possible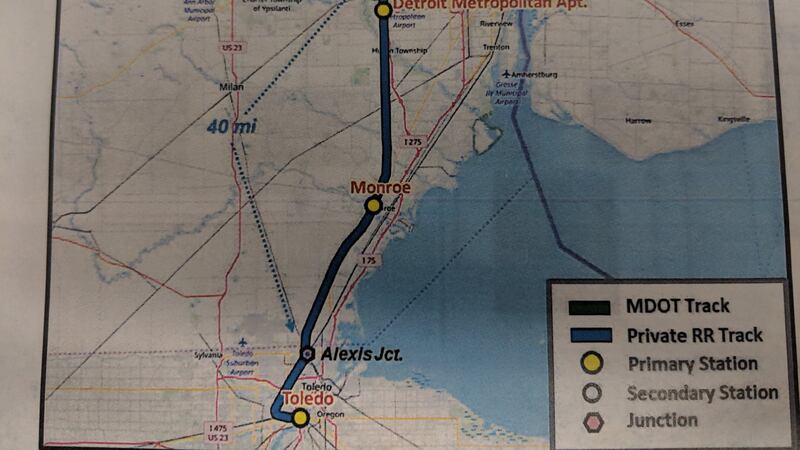 Published: Apr. 16, 2019 at 5:42 PM EDT
Passenger rail service between the Glass and Motor Cities ended in 1995 due to Amtrak budget cuts. Nearly 25 years later, talks have resumed on the possibility of Toledoans riding the rails northward once again.
City officials have hired a consultant to see whether resuming Amtrak train service between Toledo and Detroit is a feasible venture.
City Councilman Chris Delaney is on board, citing a potential boost to the local economy.
"The idea was economic development, job development in the region... not just Toledo, not just Romulus, not just Detroit", Delaney clarified.
Currently, Toledo is only served by the Amtrak line between Cleveland and Chicago, paralleled by the line further north between Detroit and Chicago. Bus service is offered for the Detroit-Toledo leg of the trip. The city is looking to directly connect these two corridors, including stops at Detroit Metro Airport.
The proposed route, nicknamed "The T", would run from Toledo to Detroit Metro before splitting along the existing "Wolverine" line to either Ann Arbor or Detroit. Additional stops would include Monroe and Dearborn, with secondary stations in Ypsilanti and Merriman Road north of the airport.
"By connecting it up by rail, we create an opportunity for people to be able to travel to the airport, as well as people who go and work at the airport, as well as work in Detroit, Dearborn or Ann Arbor", says Dr. Alexander Metcalf, President of Transportation Economics & Management Systems (TEMS). "This creates an ability for people to still live in Toledo, but actually be able to use the train."
Other factors being looked at include travel times, top speed, and crossing/track upgrades.
Dr. Metcalf says the ridership and cost-benefit results of the study are promising, and that will make a stronger case toward requesting federal funding to help build this system -- which the city hopes will keep Toledo's rich rail history alive for years to come.