Toledo police officer in critical condition after being shot overnight, one person arrested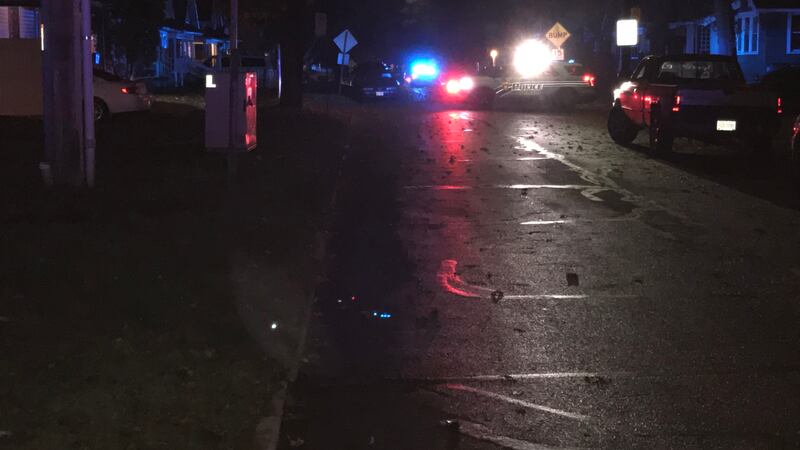 Published: Nov. 16, 2017 at 3:46 AM EST
A Toledo police officer was shot and wounded in the line of duty early this morning. It happened when Toledo police officers tried to serve a search warrant at a home at 4103 Caroline Avenue, near Sylvania Avenue and North Detroit at 2:08 Thursday morning.
The wounded officer has now been identified. Toledo Police Chief George Kral named him as 36 year old Detective Jason Picking, a six year veteran of the force. He is currently in critical but stable condition at Mercy St. Vincent Medical Center. The bullet that struck Det. Picking entered the left side of his face and remains lodged in his neck, according to Chief Kral. Det. Picking may be transferred to the University of Michigan Medical Center in Ann Arbor for further treatment.
Chief Kral says the wounded officer was hit by gunfire while standing near a police vehicle away from the home. Kral told reporters at a press conference that SWAT officers had surrounded the home in order to serve a warrant, and that someone inside opened fire. The bullet missed the SWAT team officers, but struck Detective Picking who was nearby in a support role.
"The detective was probably 30 yards away from the target home. A house away from the house standing next to the SWAT truck. He wasn't part of the entry team. He wasn't on the porch. He wasn't remotely close," said Kral. " This round that just happened to Mr. hill fired ended up in his direction and he was struck."
Chief Kral says proper procedure was followed in executing the search warrant.
Two suspects, a man and a woman, were taken into custody. One suspect was identified as 38 year old Jamaine Hill. A search of Toledo Court records a man with the same name has an extensive record that included prior gun and other charges. A relative says Hill is bound to a wheelchair. No charges have been filed in the police shooting, yet.
Kral told reporters Detective Picking's wife is a dispatcher for the police department and was on duty at the time. She was immediately taken to the hospital to be with her husband.
At the press conference this morning, Chief Kral asked for the community to keep Detective Picking and his family in their thoughts.
The President of the Toledo Police Patrolman's Association, Dan Wagner says the shooting of Detective Picking brought back memories of the fatal shooting of Detective Keith Dressel ten years ago.
"The memory was the same time as we got the phone call rolling up to the emergency room at Saint V's reminded me of when Keith died. I had just eaten dinner with Keith a few hours before he was killed in the line of duty. To sit there and see Kristen knowing she was a dispatcher listening to all of this come across and to see Danielle Dressel come through the emergency room doors to comfort her it brought back all of those memories"
TPD says the crime scene is secure and there is no ongoing threat to the public.
Detective Picking was with the Washington Township Police Department for seven years prior to joining the Toledo Police Department in 2011. As a Toledo Police officer he is a member of the Vice Narcotics Section. He has received numerous Exceptional Performance Reports and was awarded the Distinguished Service Medal in 2014.
According to Wagner of the TPPA: "He has pretty serious injuries; he's got a long road ahead of him he's got to be transferred from Toledo to the University of Michigan for some reconstructive surgery. He's lucky but not in a sense that he was shot, but lucky the round hit him where it did and not anywhere else."
Stay with 13abc for updates. We'll continue live reports on 13abc Action News and post updates on 13abc.com and on 13abc's Facebook and Twitter pages.